Welcome back to another electrifying review of some fantastic applications. So I have brought just an excellent app that you would love if you are a racing enthusiast. Many players love racing games. I used to play lots of Road Rash and Need for Speed in my childhood times. Winning a race and completing levels were some of the happiest childhood moments. Today I present to you the Beach Buggy Racing for PC – Windows & Mac. This is not just another typical racing game. It has beauty, thrills, and, most importantly, the beach.
Also, Read: Download And Play Carrom Pool Disc Game On Windows/Mac
What's More About Beach Buggy Racing Game – PC & Mobile?
The Beach Buggy Racing is a multi-player 3D game. It is a game packed with fun rides, and why is that –Because the track is all sandy.
This racing game is all about polishing your face-off racing techniques, unlocking special abilities, and entering new levels with upgraded monster vehicles with a significant variation of upgrading.
Traits Of The Beach Buggy Racing Game
So, let's see how this game functions and what the levels are.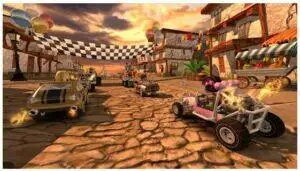 Kart-Action
Like any other good racing game, this game also has a kart-action sequence, including lots of competitive features.
You will have different vehicles, each having their unique traits. The tracks will be full of surprises.
You will find obstacles as well as power-ups on your way. The 3D induction makes the racing more realistic.
Frenemies
During the race, even your friends become your rivals. You can invite your frenemies to your home to play with you like the Beach Buggy Racing game will let you play side-by-side with four friends maximum –the best chance to defeat them.
Vehicles
OMG! The vehicles in this game are so wonderful. You will find the garage filled with such unique cars. Try to buy cars that suit you well in the game. Winning the levels will also open new vehicles to you, so choose wisely.
All the cars and trucks are upgradable and customizable, so match them with your personality and keep it firing that track.
Also, Check This Article: How To Play Totally Reliable Delivery Service On PC?
Race-Tracks
Although the game's name is Beach Buggy Racing, you would experience more than the beach here. The tracks of this racing game are composed of horror jungles, angry volcanoes, creepy E.T planets, and of course, some exotic beaches.
All of these tracks will have one thing in common –A bumpy ride.
Wait for the surprises and little shortcuts during the race that will take you to the top position.
Power-Boosters
Like any other typical game, you will find some power boosters here. You know high-speed power-up, gold coins, and blah blah.
But wait, it has something more. Yes, you can now diss your opponent by throwing balls and flowers towards him with a special power-up in the track to slow him down. But be aware; don't let anyone else use it on you.
There are other power-ups too that will protect you from such attacks.
Clan-Racing
The Beach Buggy Racing game is a career-mode oriented game. But there are some exciting levels too –you can put a time trouble race, participate in elimination, do a knock off the race, or even create a clan of your own.
Now when you make a buggy clan, every character will have a unique ability. Some can teleport, while others can set the track on fire or even mislead others from the main trail. So keep an eye and try to win it.
People Also Love: Blockman Go Game On PC – Windows & Mac Download
Pros And Cons Of The Game
It's time to point out all the goods and bad this game.
Pros
It supports HD 1080p resolution.
60 Frames Per Second.
Free rewards.
Special levels and winning rewards.
Subtle color themes and visible tracks.
Secret pathways and shortcuts
Available on other platforms such as PS4 and Nintendo Switch.
Cons
Paid subscription
Ads disturb the race
Upgrading doesn't change much.
Extremely tough levels
Some competitors are annoyingly stronger.
How To Install The Beach Buggy Racing On PC – Windows 11/10/8/7 and Mobile?
The Beach Buggy Racing is available on Android, iOS, PS4, and Nintendo Switch. You can get this cool racing game on your PC, too, but of course with the help of an Android emulator.
Let's tell you how to get the Beach Buggy Racing on your PC, Android, And iOS.
Installation For An Android Phone
Access your Google Play Store.
Type in "Beach Buggy Racing"
You will see it on the top with the developer "Vector Unit."
Click the download button and wait for it to finish.
Enjoy Beach Buggy Race on your Android smartphone.
Installation For An iPhone
Take out your iPhone and open the App Store.
Hit search on the market and type "Beach Buggy Racing."
The developer is of course, "Vector Unit" here as well.
Hit the download and enjoy Beach Buggy Racing on your iPhones.
Beach Buggy Installation On PC – Windows 11/10/8/7
The procedure is simple. Download an emulator first. There are too many Android emulators available. But in this guide, we will use LD Player here as it's fast and effective for games like this one. To install it, follow the steps written below.

Go to the LD Player website and browse to their download page.
Click the download button to start saving the installer of the LD Player to your computer.
Install it on your PC by running the installer on the installation window. Make sure to check and agree to the license agreement.
Once you have installed the LD Player Go to the Google Play Store and type your Gmail account to login, otherwise start searching for the Beach Buggy Racing game.
Download the game and wait for the installation to complete.
Enjoy fantastic beach racing on your PC.
People's Query
Who invented this game?
The developer Vector Unit introduced the Beach Buggy Racing in 2012 on Android, iOS, and Blackberry.
Is this game available and supports the split-screen?
Yes, when you buy this racing game subscription for $5, you can enjoy the split-screen and many other useful features.
How do you play Beach Buggy on PC?
You can play this game on your PC, Laptop, and Mac with the help of the LD Player, or other emulators. In this guide, we think that the LD Player is the best emulator for running this game on your computer.
Summary
Beach Buggy Racing is a decent Kart-Action game. It's a perfect time-kill and a mood-changer if you want to try something different and aesthetic. Install it and race your heart away.
You Might Also Like: How To Download Block Strike App On PC – Windows & Mac