ES File Explorer For PC And Its Alternatives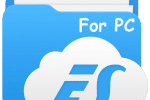 ES File Explorer is popular among the file manager apps available online because it is loaded with amazing features and tools you could ever look for in a file manager and it has regularly shown very good performance.
However, developers of ES File explorer have included some obtrusive features with a low-quality material user interface which negatively affected users experience and made the app looks blown out.
On the bright side, there are many other file managers for the Android platform that are a very good substitute for the ES File Explorer for PC. Some of these alternatives are described below:
Astro File Manager
Astro File Manager is an astonishingly free app that does not contain any ads. It is a wonderful app that comes with various flexibility on how files can be managed and displayed. For instance, you can view files in thumbnails or the full details. You can easily copy, delete, and move files from one location to another. One additional feature that comes as a bonus is that files can be easily compressed into rar and zip formats. You can backup files into an external storage or cloud storage and also comes with the abilities to use different variables to sort your files. Oh! And again this app is free without any ads.
You might also like this: KineMaster For Pc Free Download
Amaze File Manager
Amaze File Manager is an open-source file manager with amazing design and very simple to use. The app comes with options of displaying files in grid or list view. You can also perform basic operations such as compress, copy, paste, move, delete and extracting files from zipped files.
Selecting the left-hand option will display a navigation drawer where you can easily view all your files, images, videos, music files, and installable apk files. It also comes with other important features like SMB file explorer, root explorer. This app also allows you to easily uninstall apps, backup files and multiple tab support that can enable you to move around directories quickly.
One amazing feature about this app is that it does not have any annoying ads which will pop up or in-app purchases. It can also be downloaded for free but you can donate to the development on GitHub.
File Commander
This is another popular app for android devices and has recorded over 50 million downloads. This app is developed by Mobisystems, the same team that developed OfficeSuite for Android. This app comes with a "Secure Mode" feature that enables you to encrypt and hide files from external access and also a "Storage Analyzer" that displays the full details of what is filling up the storage space on your internal and external storage.
You also have the ability to access your cloud files such as Google Drive, OneDrive, Dropbox, Sugar Sync, Box and Amazon Cloud Drive. Simply sign in and view all your files remotely. You can also copy, move, delete, upload and download these files. File Commander has an FTP/SFTP support and has support for connecting with close by Bluetooth or Wi-Fi Direct.
The app is free but comes with annoying ads with an option to upgrade to the premium version that comes with additional features and no ads.
Solid File Explorer
Solid File Explorer is one app that is very similar to ES File Explorer with regards to the set of features but it is not completely free. You can download a trial version that will last for fourteen days, then you can now unlock its full features for $1.99 before you can continue to use the app. The app also has the general features of a file manager like the option to copy, move, and delete files. It also comes with additional advanced features such as access to cloud accounts on Google Drive, DropBox, OneDrive, and others. Solid File Explorer For PC features Chromecast support, Dual pane interface, archive support, a built-in music player and image viewer. It also has the ability to hide files and folder.
Solid File Explorer can also be personalized with various color schemes and three themes so you can customize it according to your desire. You can also purchase additional custom icon packs which can be applied in the app. There is a unique security feature where you can secure your network location with a password.
MK Explorer
The MK Explorer almost has similar interface design as Cabinet and Amaze but comes with incredible features that make it outstanding from the other two. The app comes with a built-in gallery function in which you can easily view your images without redirecting you to the default image viewer on your phone.
The properties view using this app are very detailed whenever you view file and folder properties. It will display the modified date, the full path, the size and the permissions which can also be modified within that same screen. Also, it comes with several keyboard shortcuts compatible with devices that use physical keyboards.
Cx File Explorer
This file explorer has almost 90% of the features in ES File Explorer For PC. It has simple and easy file analyzer, junk cleaner, app info, and backup support. It also supports local and popular cloud storage and also comes with an in-built media player for music and videos.
Looking for privacy browser? Check Aloha Browser for PC
Conclusion
ES File Explorer For PC is no doubt is an amazing file manager for android devices but its recent inclusions of half-baked material user interface design and other obtrusive features prompt users seeking for a better alternative.
This article has provided six of the best alternative to ES File explorer available online. We thank you for visiting AppzforPC.com
Latest posts by Kevin Piol
(see all)