Galactory – God Simulator for PC is an offline simulation game about building your own planet, creating life, adding animals, or declaring massive damage. As the creator you can set your own rules, it is really up to you. There are a thousand things you can do with this game. All your creativeness will come out of this game for sure. This is an entertaining game with good pixel graphics as well.
With more than 500,000 downloads in Google Playstore, it means this game got huge popularity among users with its simple interface.
Playing the Galactory God Simulator is much better on a PC, your experience gets real, unfortunately, this application was invented for smartphones. I know it is really frustrating, so let me help you find a way how you can play this exciting app on your PC. Keep reading this article and you will find all the answers to your problem.
Features of Galactory – God Simulator Application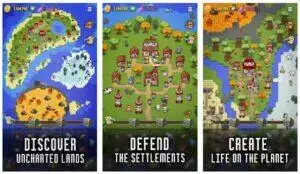 To know more about this application, I listed some key features for you.
Create your own planet
In this game, you can build your own planet with simple clicks and taps. Choose the location where you want to start your empire. Start the civilization by adding people and animals to it, put seas, huge islands, etc.  You can also check the inhabitant's health status and more. Create the most powerful world you can imagine.
Defend your planet
There are also threats coming along the way while you are building your civilization but you do not need to worry because tools such as bombs are ready to use. If your neighbors get into your nerves, well you can also defend and protect your own planet by building and growing your civilization into a modern one.  Natural disasters such as earthquakes, floods, or even volcanic eruptions are also there.
Level up civilization
As mentioned it is necessary to grow your civilization to protect your planet. In addition to this, you can also unite territories and form a great modern economic society.
Unleash your creativity
In this game, you will let your creativity show. You are the creator so the destiny of your planet depends on your creative imagination. Maximizing all the tools and functions of this game to build your unique planet or conquer the world. Be innovative and surpass all the challenges in this game.
Easy and simple interface
The application is very easy to understand. Tools are readily available, just choose a tool and tap the screen to use it.
Different Languages
Offered to all the people around the world, so you can use different languages such as, German, Korean, Spanish, Italian, and many more.
Free Application
This game is free and you can use it even if you do not have an internet connection, however, some in-game items can be purchased after watching some ads.
How To Download Galactory – God Simulator for PC? (Windows 11/10/8/7 & Mac)
Almost all applications we use today are applicable only for mobile platforms, however, there is a certain way that you can use to install and use your favorite applications on your PC.
Let me introduce to you Android Emulators. These are software that will enable you to use the app on PC as well without any problems. Here are some examples of emulators and how to use them to download your needed applications.
Method 1: Install MEmu Play to Download Galactory God Simulator for PC
It is one of the coolest emulators we have today and it is basically software designed to install games on PC such as Temple run, PUBG, etc.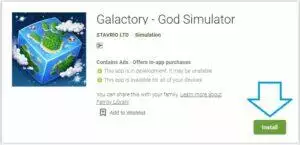 Download and install MEmu Play on your PC, always get the software on the official website.
Once the emulator is installed, open it and find the Google Playstore icon.
Open the Google Playstore and search for the app you need, so in this part basically, we need the Galactory – God Simulator.
Find the official game and click install.
Once installation is successful, you can find the Galactory – God Simulator icon on the home screen of MEmu play. Open it and enjoy the app.
Method 2: Install Nox Player to Download the Galactory God Simulator app for PC
This emulator is fast and very efficient. It will also help you run an application even if they are not available in Playstore.
Download & Install Nox Player from the official site.
Open the installed Emulator and open the Google Play Store in it.
Using Playstore, search for Galactory – God Simulator.
Click the install option under the Galactory – Sandbox God Simulator icon.
Double click to open the app on the NoxPlayer and you can finally start your game.
Similar Applications
If you are super hooked on this kind of game, let me give you some similar applications or games you can download and enjoy.
WorldBox
Idle Planet Miner
Small Living World
The Sandbox: Craft Play Share
Divine Academy: God Simulator, Build your City
Doodle God Blitz HD: Alchemy
Idle World
Creatures
Almost all these games are simulations of the adventure of creating and running your own world or place but with different game targets and concepts.
Conclusion
If you want to feel supreme powers over something and prefer an out-of-the-box strategy, the Galactory – God Simulator game is for you. It is very interesting and engaging to users. You will surely enjoy playing all throughout.
I also discuss with you two ways how you can download and use the application on your PC. Emulators are a big help to us in this situation, they are safe and free to use. You can follow any of these methods, or you can also try other emulators you prefer.
Hope this article helps you with you to use Galactory – God Simulator on your Pc. Share with your friends!