Despite having high-resolution monitors, blurry apps are a common problem and we all have to deal with them. Certainly, these applications are not developed with robust display specs in mind. If you too are wondering why the apps are not displaying clearly, there's a catch.
Even though the problem is not a complicated one, you can't expect an instant fix. There are various troubleshooting tips that allow you to get rid of blurry blues; however, you need to spend some time to find out what works best for you.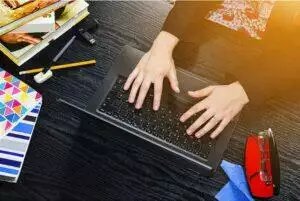 Scaling and DPI
The scaling is an attribute that determines to what extent the content on the screen should be enlarged in pixels. Scaling allows displaying a resolution of 1920 x 1680 to cover the entire screen estate and appear like 4K content.
Monitor screens are developed of millions of dots called pixels. A DPI (dot per inch) measures the number of pixels used to make a 1-inch diagonal line on your computer screen.
The resolution settings or DPI Scaling controls how large the desktop icons, apps, or font appear on the screen. A larger DPI setting will make the object appear larger while a smaller DPI will make it smaller on the screen.
The settings you apply will either make the apps and files look clear or slightly blurry. More often moving files to another location can fix the problem. If you wonder how to move file on mac or Windows, either copy and paste them to another location or drag and drop the files carefully.
How to Adjust DPI Scaling?
To adjust DPI Scaling in Windows 11, press and hold down Windows + I keys. Click on Start, tap Settings, click Systems, and then select Display. Alternatively, click on the Display section. Scroll down to find the Scaling option and tap Menu.
If the app window appears too blurry, it indicates that the value for DPI Scaling is too low, so increase it a bit for better image quality. Make sure to keep the Scale value to 150% as it is the recommended one and works best on average screen sizes.
For a 27-inch 4K screen, 150% would be an ideal selection, while you can select 125% if you are working on a larger screen, a 32-inch monitor, for example.
Keep in mind that changing the scaling value will impact everything you see on the screen including the apps, fonts, icons, images, taskbar, notification areas, and more. The objects will grow or shrink in size as per the scaling value you select.
If you want, you can change the DPI scaling for a particular app. Sounds better? This could be an ideal option if you don't want other objects to change in appearance.
How to Adjust DPI Scaling for A Particular App?
By changing the DPI scaling for a single app, rest assured that nothing (except the selected app) would change on the screen. This helps specifically when you have selected a desired scaling on Windows 11, but finding difficulty using a particular app as it appears blurry on your monitor.
To change the scaling value for a single app, right-click on the app and tap Properties. A new window will open with a variety of tabs. Click on the Compatibility tab and find the Change high DPI Settings option available in the lower section of the window.
Clicking this option will take you to another window. Click on Program DPI as it will allow Windows to optimize the application's scaling. Next, under the "Use the DPI that's set for my main display when", select "I open this program".
Another option you may select is a High DPI scaling override. Tick mark the checkbox that says "Override high DPI scaling behavior" and select "System (Enhanced) option underneath "Scaling performed by:" Click OK to allow the system to implement changes.
After adjusting DPI scaling, you are still not able to view the apps in high clarity, try to enable the ClearType text option provided by Microsoft.
How to Enable ClearType Text?
To reduce the pixelation in fonts, Microsoft gives access to ClearType technology. The software technology improves the readability of text on the laptop and flat panel screens. You can manually enable ClearType on your Windows computer by following a few simple steps.
Press Windows + S keys altogether and type ClearType. Tap on the Adjust ClearType text option from the list of search results. Tick mark the checkbox displayed with Turn On ClearType and click Next. Now select the text sample that suits your preferences and click Next.
Repeat the same procedure for all text samples and click on the Finish button. Wait for a few minutes and allow the system to render the settings you applied recently. If this workaround doesn't seem to help much, change application graphics preferences to get rid of blurry app issues.
Alternatively, switch to the best appearance setting to open and view the apps in high quality on the computer. Windows offers three significant visual modes that include the best appearance, best performance, and custom options. Try all three features to identify what works best for you.
Apart from the above-mentioned workaround methods, you may also try to restart your computer as it's a simple and quick resolution to many PC issues.