iTop Easy Desktop is a light and simple-to-use managing tool that allows you to avoid tediously arranging icons, files, and folders in accordance with the guidelines that you have set. It provides a number of useful features, such as grouping desktop items, directly waking search, and quick access to icons and files even across multiple pages. iTop Easy Desktop v1 is one of the most reliable desktop organizers available. It enables you to maintain a clutter-free desktop by organizing files, folders, and even icons and putting them into a virtual container.
iTop Easy Desktop v1 Features
Organizing Files
iTop Easy Desktop v1 allows you to organize desktop files with boxes. Software, files, images, application icons, nameless files, recently updated documents, compressed files, and those files that were randomly accepted by your computer can finally be easily organized with the help of this software. This software will help you organize all of your desktop files by dividing them into desk boxes of various categories. simple organization, it automatically produces numerous boxes as little workspaces for your desktop icons, or you can also choose to do it manually.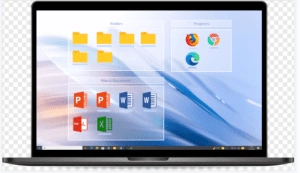 Portal Creation
Any folder on your computer can be easily accessed directly by creating a portal with the help of iTop Easy Desktop v1. It functions like a file explorer. For instance, it puts a folder's whole directory on the desktop. You may open a specific folder on the desktop and access the files inside it, unlike the conventional and customizable boxes. Providing a window that is directly attached to the user's hard disk, prevents the desktop from being clogged with too much data.
Hide, Search, and Find files
iTop Easy Desktop v1 also helps to protect your privacy by hiding your desktop icons. Users will just have to click twice on the blank space to do so. And it is very easy to unhide them, as you will also need to just double click to reveal all the hidden files. Additionally, you can find files more quickly by using the hotkeys that the software offers for convenience. Hotkeys will let you easily and quickly find desktop files and icons without even going to the desktop.
Personalization
This software also allows its users to easily personalize their desktops according to the style that they want. You can change the background colors and manage the transparency of the desk boxes that you have generated by using the customization settings. In addition, you may construct an automatic rule on your own and adjust the text fonts and tags as well. All of the recent desktop adjustments that you have made will also be automatically saved.
Secure
The Top Easy Desktop v1 software can also help you protect your documents from people who might want to view, edit, or delete them. You can prevent unauthorized usage or viewing of any folders by putting up passwords through the use of Top Easy Desktop v1. Now you can rest easy as all of your private data, photos, and videos that are needed to be kept secure from outsiders can now be hidden.
See Also: iTop PDF Editor
How to use iTop Easy Desktop v1
With the help of its simple user interface, iTop Easy Desktop v1 is so easy to use. Navigating through the app is very simple, and you can quickly get the gist of how to use it.
You will just need to drag different objects from your desktop, URL links, or folders that came from your browser's address bar to easily organize them.
To hide icons, files, and data, you can just double-click the blank space that is on your desktop. And to unhide all of the data that you've hidden, you can just tap the click two more times.
The simplest way to use iTop Easy Desktop is to click the "Quick Start" button that pops up after installing the app. It will automatically create boxes and place the icons in them. However, if you want to manually change the icons, you can click the "Customize" button. From there, you can customize the color and transparency of the boxes. You also have the option to set up hotkeys for quick action.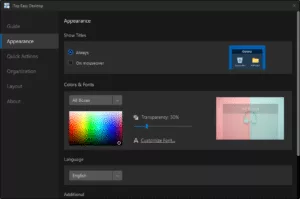 How to Download the iTop Easy Desktop
iTop Easy Desktop v1 for Windows can be downloaded by visiting its official website and navigating to the "Product" page on the main interface. From there, click on iTop Easy Desktop and look for the download button. Click "Download," and the application will immediately start downloading.
FAQs
What is iTop used for?
iTop is a free program for managing hardware, software, and related services. The community version has no restrictions or licenses and is entirely functional. iTop is accessible to anyone who wants to use it, be it for professional or non-professional use. It also allows you to easily consolidate data regarding devices, software, users, locations, etc., thanks to its simplicity.
Is iTop Easy Desktop v1 free to use?
iTop Easy Desktop v1 is free to download and, most importantly, free to use.
How to hide Desktop icons in Windows 10?
The simplest way to easily hide, unhide, or change your desktop icons in Windows is to download the iTop Easy Desktop v1. With a few clicks, you will be able to hide the icons you want for better privacy and security.
What is the iTop Hub?
It is a platform that gives its users access to all the tools that they need to maximize the efficiency of their iTop products. By signing up, the developers will give their users the opportunity to become acquainted with the software in order to further tailor their instances to better fit your processes and contribute to iTop's vibrant and expanding user base.
Conclusion
iTop Easy Desktop v1 is a must-try if you wish to automatically arrange desktop folders, icons, files, and all other content. You may easily regain control of the Windows desktop's components with iTop Easy Desktop by grouping files; pictures and documents, icons, or other custom shortcuts. The program will also allow you to have enhanced instant access to programs and the files of your choice while allowing you to swiftly search and run the said files.