iTop PDF is a user-friendly PDF editor that has tons of useful features. It assists users with viewing, editing, commenting, converting, and even protecting your PDF documents. In addition to being one of the best options for users to create flawless PDF documents with the features mentioned above, it also allows them to attach links, manipulate pages, and create their own custom stamps. iTop PDF v3 can also be used to easily convert PDF files to a variety of file formats, such as Word, Image, Excel, Text, and more.
iTop PDF v3 Features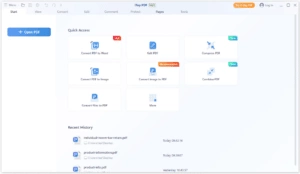 Convenient
iTop PDF v3 is easy, free, fast, and powerful! Its user interface is quite simple and easy to use. All of its editing tools are easily accessible and quick to use. With the help of iTop PDF v3, you can quickly modify PDF files and even generate new ones for free. It is also a light application that offers fast loading and processing to increase productivity.
PDF Pages Edit
This software will allow its users to arrange the pages that they are working on, such as by rotating, cropping, inserting pages, and even changing the page's sequence. You may easily update and modify your PDF by using the software's extensive range of editing tools
PDF Form Filler
iTop PDF v3 automatically and instantly recognizes forms the minute they are uploaded. Users will only need to click on the fields and type in the information they want to transcribe to quickly fill it out.
PDF viewer
It will allow its users to easily view and read PDF files. Aside from the already many uses that iTop PDF v3 has, they have also added viewing and reading PDF files, such as ebooks. This app also simplifies the process of adding bookmarks and comments.
PDF E-Signature and File Merging
iTop PDF v3 will also allow its users to quickly and easily create their own E-signature such as custom stamps and watermarks, in iTop PDF and e-sign PDF files. You can also quickly merge PDF pages into a single PDF file by using this software. Additionally, before combining the pages into one, you can add, delete, and rearrange the pages that you want. Aside from merging many PDF files into one, it can also split a single file into multiple PDF files.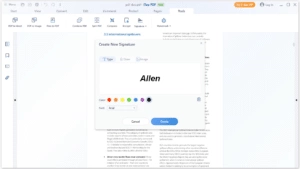 Convert and Compress
It can also swiftly convert PDF files to and from Word, Excel, and Powerpoint in high quality. Additionally, you may recognize and extract text from photos and those PDF files that were already scanned by using the OCR converter. After converting, you can also easily compress your PDF files. You can also instantly
compress all of your PDF files by uploading the files you want to compress. As an additional feature, it also allows users to choose options for its compression level: "smallest size with high quality" and "medium size with the highest quality."
Quick and Easy Steps to Use iTop PDF v3
You can use iTop PDF v3 in many different ways, you can either read, edit, convert, or compress files. Depending on your objective, there are different ways to properly use this software.
1. For reading, you can just upload the file that you want, and it will allow you to adjust the size of the page to easily improve its readability. You can also select an appropriate reading method to enhance your reading experience.
2. For editing, just upload the file you want to edit, and you can easily edit the original content, add text, images, shapes, and the text's font sizes, and colors.
3. For converting, also just upload the file you want to be converted and choose the desired format you want, and click "Convert."
4. For compressing files, simply upload all of the files you want compressed and click "Compress."
5. To add a watermark to your PDF file, click on the "Tools" option and then "Pages." Scroll down on the Pages section and click "Add Watermark." Just enter the text you want and click "Ok" to apply.
Download iTop PDF v3 on Windows
To download iTop PDF v3 on Windows, just open the company's website and go to the "Product" page on the main interface. Next, find the iTop PDF from the "Product" page and then click "download." The program will be downloaded immediately after clicking the button.
FAQs
What is PDF format?
PDF means Portable Document Format. It does not matter what software, hardware, or even operating systems are used by the users who will examine this document; this adaptable file format from Adobe provides them with a simple and dependable way to show and trade data.
How can I edit PDFs for free with iTop PDF v3?
After downloading and installing iTop PDF v3 on your PC or laptop, just click the app's
icon to open it. You can use iTop PDF to open any PDF file and edit it by selecting specific feature buttons. For instance, you can choose the elements that you want to edit by clicking "Edit content" on the app's main interface.
Can I put a password for my PDF file using iTop PDF?
ITop PDF v3 prides itself on its safety and security. One of the many reasons for this is that they allow their users to add a password to their PDF files for additional protection. A file that has a password can only be opened or viewed if the user knows the password.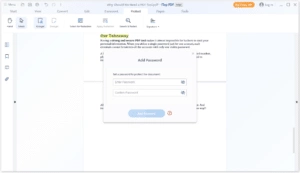 Is iTop PDF v3 good?
iTop PDF is beyond good! iTop PDF has a good blend of features and usability. Because of its simple user interface and its toolbar, which was designed in the same manner as the Microsoft Office ribbon, you can manage PDF documents easily.
Conclusion
ITop PDF v3 is one of the best PDF applications for Windows. It is available for free and is simple, quick, and very useful. Aside from being a PDF reader, it also functions as an editor and converter. There are also features that allow users to edit, sign, highlight, and annotate their PDF files. The best part of it is that both its precision and its features are really reasonable. Overall, it is a very useful software that will easily meet your demands.