Action and shooting games have always been fun. It's been decades since such action games have been inside the industry. There were times when games like Red Alert and Contra became some of the most played games of those times. Many of us have played them in our childhood and finished our enemies, and it always felt fun doing it.
After those games, the shooting games revolutionized once again, and we got games like Project IGI and Call of Duty that created a universal fandom. Then the gaming consoles like the PlayStation and Xbox games upped the game to a new level.
More developers are now moving towards mobile gaming as not everyone has a console but can use their phones to play these FPS games. Luckily, we have one similar game for you that you can play on your mobile and PC as well.
The game in review today is Pixel Gun 3D, one of the most fun and engaging FPS games you will ever come across.
With this article, you will learn how to play the Pixel Gun 3D for PC. First, we will tell you more information about this game.
What is Pixel Gun 3D?
The Pixel Gun 3D game is an FPS or first-person shooting game that allows multiple users to play it at once. This game is trendy, and millions of players play it daily and enjoy it.
The best thing about the Pixel Gun 3D game is that, unlike other FPS games, it doesn't have realistic characters or graphics; instead, it uses blocky graphics and cartoonish characters to make it enjoyable for kids and adults alike.
The Best Features Of The Pixel Gun 3D Game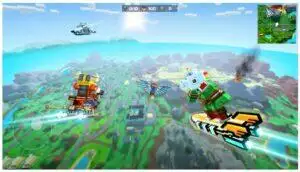 Let's explore why the Pixel Gun 3D game is so popular:
The Imposter Mode
One of the best highlights that the Pixel Gun 3D game has to offer is its game modes. You will find many intriguing modes inside this game. The most famous mode you'll find inside Pixel Gun 3D is the Imposter mode. In this mode, you and your other opponents will be trapped in a spaceship.
The game will then provide you with specific tasks that you have to accomplish to keep your spaceship working and afloat in space. If you complete all the tasks, you will reach back home safely. Otherwise, there is a danger lurking inside. An Impostor, which could be any team member, will try to interfere with the internal spaceship matters. That impostor will try its best to kill all of the team and prevent going back home.
The Latest Clans
You will enjoy all-new clans in the Pixel Gun 3D game with your friends. You can get your clan atop the visions to enjoy the best rewards. The clans inside the Pixel Gun 3D game are unique and adventurous as you can update and personalize your fort.
The better you make your fort, the fewer chances your enemies will get to lay their PvE sieges. On top of that, you can also create a powerful tank that will help you raid other members' clans and forts.
Several Weapons
There is one particular thing about the Pixel Gun 3D game: the diverse range of weapons you will find here. No other game will provide you with more than 800 different weapons other than Pixel Gun 3D. The fun fact is that you can choose any of these weapons to fight and defend your clan and fort.
It doesn't matter if you like to fight with a medieval sword and shield or a tank. The Pixel Gun 3D game will give you all the most lethal, even the Dark Matter Generator. Other than that, you will have plenty of grenades to scare your enemies.
Uncountable Skins
You have to define your character in every game to make it look unique and easily recognizable. The Pixel Gun 3D game also provides you with the same opportunity. You can get many skins. For example, you can choose a skeleton skin for fun, or make yourself an Orc as we saw in the hobbit, or you can also wear an Amazon skin that would make you look like a mighty warrior. There are plenty of skins and outfits to show off every day. If you want to add more fun, then Pixel Gun 3D also lets you create your personal skin using the skin editor mode.
Multiple Game Modes
The Pixel Gun 3D game has further sub-modes that you can play. You can choose to play Battle Royale. Other than that, you can also get modes like Raids, Deathmatch, etc. There are many opportunities for a gamer like you. We would recommend not missing the brawls that rotate every week as there are a lot more surprises inside them for you.
Mini-Games Fun
If you get bored of the battlefield, then the Pixel Gun 3D game has more options for you in the shape of mini-games. You can participate in mini-game competitions and prove your skills. You will get energizing mini-games inside like the Sniper tournament, Glider Rush, Parkour Challenge, and much more.
The Pros and Cons – Pixel Gun 3D
Let's see the benefits and disadvantages.
Pros:
You get 800+weapons.
Multiple player modes.
Ten mini-games for you.
100+ exciting maps rotation throughout the year.
You can play Pixel Gun 3D on PC or mobile.
Cons:
Winners get fewer rewards.
How To Download The Pixel Gun 3D for PC – Windows 11/10/8/7
The Pixel Gun 3D game is available online to play. You can use the site or install the app through the NoxPlayer emulator.
Go to this website to directly play it on your web browser.
Or, install NoxPlayer and enter a Google account inside.
Search for Pixel Gun 3D and install. Enjoy!
Finally, you will be able to play the Pixel Gun 3D game on your PC.
If you are using Mac, do the same method to install it.
FAQs
Is Pixel Gun safe?
Yes, it is safe.
Is Pixel Gun free to use?
Yes, it is free.
Is Pixel Gun worth it?
Yes, it is very fun to play and consider one of the best FPS games.
https://youtu.be/voRo6ApSK5U
Conclusion
The Pixel Gun 3D is an epic, adventurous game for every age. Install Pixel Gun 3D on your Windows PC and shoot the shot.