YouTube TV for Firestick – How to Download?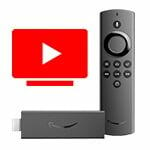 If you are looking to purchase the most cutting-edge entertainment for your television viewing needs, then look no further than YouTube TV for Firestick. The new YouTubeTV software application has truly transformed how we view television.
All of our favorite shows, videos, and movies can be viewed right from our portable media player, computer, or smartphone. No longer do we need to leave the house just to catch up on our favorite show. Instead, with the YouTubeTV application, we can sit back and enjoy our programs from anywhere we feel comfortable.
It doesn't matter what type of device you own. The YouTube television viewing experience is identical whether you use a traditional entertainment system like a TV box, cable box, or even a gaming system. The software makes it possible for you to view your videos on almost any modern device.
Since it is controlled through the mobile device, it is safe and easy to operate as well. There are a few things that you need to keep in mind before purchasing the software. The first thing to do is make sure that the device you are interested in has sufficient memory to store the large video files that YouTube provides.
How to Download Youtube TV for Firestick?
Previously YouTube TV was not available on the Amazon App Store due to some strain between Google and Amazon. But now things are at standard terms between Google and Amazon to find youtube tv easily on the Amazon App store.
In this writing, we are going to discuss methods to install YouTube TV on FireStick. We are going to tell you more than one way to install Youtube TV because you never know when youtube tv gets unavailable on the Amazon app store.
Note: if youtube TV is geo-restricted in your region, then you may need a good quality VPN to access it.
Let's discuss the methods of installing youtube tv on firestick.
Install Youtube TV from the amazon app store.
Install youtube TV through APK
Method 1: Download Youtube TV for Firestick From The Amazon App Store
To install youtube tv on your Firestick through the amazon app store, you need to follow these steps:
Firstly, you need to open the Firestick Home screen
Now look for the Search icon that is located at the top of the screen and click on it.
Write YouTube TV in the search bar and click on the youtube tv that appears in the results.
Click on the option Get to start the downloading.
It will take a few seconds to complete the downloading after downloading; click on the option of Open.
This is the easiest and most convenient method to have a youtube tv app on your firestick device. Just visit the amazon store and download it and enjoy live streaming on your screens.
Method 2: How to Install YouTube TV on FireStick Using APK Method
In case you cannot download the youtube tv app directly from the Amazon store, you can still have it through the downloader app. This method is also very simple, so no need to fear any twists and complexity. Just follow the given steps, and you will be able to download it on the firestick.
Open the home screen of the fire stick.
find the "Settings icon"

on the menu bar and click on it.

Click the option of  "My Fire TV

" to open it

now, you will see an option of "Developer Options"

just click on it.

now, Turn "ON" the option of "Apps from Unknown Sources

."

The next step is to return to the Firestick Home screen
look for the "Search

" option and click on it.

enter an app called "Downloader"

in the search bar and click on it.

instructions will be given; you need to follow them to complete the installation process.
After installing the downloader app, just open it.
Click on the Home tab and click on the search icon.
enter the URL for the youtube tv app in the search bar.
The YouTube tv APK starts downloading
After a few seconds downloading will be completed, and then you can click the option "Run" to install it on the firestick.
Downloading the YouTube application onto your Firestick is easy and fast. Once the application has been downloaded, you can start enjoying the benefits immediately. You can select which programs you want to watch, manage your favorites, and search for new videos. In addition, the application provides a number of additional features, such as a notification center, that allow you to stay up to date with the latest entertainment options available.
Youtube TV for Firestick: Different Ways To Install It On Fire TV Stick
Wrapping Up
In order to use all of the features that are offered on the YouTube TV on the Stick, you must have an active internet connection. Because this device can be used in the home or at work, if your internet is slow or unreliable, you may not be able to view the YouTube television videos that you want to.
If you subscribe to YouTube's premium service, it will not affect your ability to view videos on the YouTube TV on the Stick. However, you should make sure that your internet connection is faster than average in order to get the most out of this application. You may want to check with your internet provider to find out if you are still eligible for YouTube Premium membership.
With so many different features and options, the YouTube TV on the Stick is an excellent choice for any home. With a device that makes watching traditional television possible from anywhere, you can genuinely take advantage of the convenience offered by this television entertainment program.
You Might Also Like: How To Download IPTV Smarters On Firestick?
Latest posts by Kevin Piol
(see all)