Remote desktop software allows you to access and control another computer or server over the internet as if you were sitting in front of it. This can be useful for various purposes, such as technical support, remote work, online education, file sharing, and more. However, not all remote desktop software is created equal. Some may be too complex, too slow, or too insecure for your needs. That's why you should consider AnyViewer, a secure, fast, and easy-to-use remote desktop software that offers many features and benefits for everyone.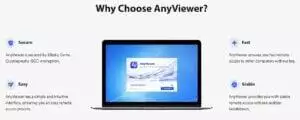 Features of AnyViewer
AnyViewer is designed to provide you with a smooth and seamless remote desktop experience. Some of the features that make AnyViewer stand out are:
High Performance
AnyViewer uses advanced compression and encryption algorithms to ensure fast and secure data transmission. Even with slow internet connections, you can still experience high-quality video and audio streaming when using AnyViewer. This means you can enjoy seamless streaming of your favorite media without worrying about your internet speed, providing you with a smoother and more enjoyable experience.
Multi-screen Support
It allows you to view and control multiple screens of the remote computer or server at the same time. You can also switch between different screen modes, such as full-screen, windowed, or scaled.
File Transfer
This remote viewing app revolutionizes the way you share files online, eliminating the need for a physical USB drive or the tedious process of uploading your files to a third-party service like a Cloud drive. With AnyViewer, you can easily share files across multiple devices over the internet, streamlining your workflow and maximizing your productivity. To transfer, you can drag and drop files between the local and remote devices, or use the built-in file manager to browse and manage files.
Remote Printing
You can print documents from a remote computer or server using your local printer. You can also save the documents as PDF files on your local device.
Chat and Voice Call
AnyViewer lets you communicate with the remote user via text chat or voice call. You can also send screenshots or emoticons to enhance your communication.
Remote Wake-up
It allows you to remotely turn on a computer or server that supports Wake-on-LAN (WOL) technology. You can also set a schedule for automatic wake-up or shutdown of the remote device.
Compatibility and Platform Support
AnyViewer's compatibility with multiple operating systems and devices makes it a versatile tool for file sharing and remote access. It is compatible with a wide range of platforms, including Windows, Mac OS, Linux, Android, iOS, and even web browsers. This means that no matter what device or operating system you are using, you can still utilize AnyViewer's capabilities.
Moreover, AnyViewer allows you to remotely access and control computers or servers running different operating systems, making it a powerful tool for multi-device and cross-platform usage. You can access a Windows PC using your Android phone or control a Linux server using your Mac laptop, providing you with unmatched flexibility and convenience. With AnyViewer, you can seamlessly integrate your devices and streamline your workflow.
Security and Privacy
The security and privacy of your data are a top priority for AnyViewer. The app employs cutting-edge security measures to safeguard your files from unauthorized access. AnyViewer uses AES 256-bit encryption and RSA 2048-bit key exchange to secure your data during transmission, ensuring that it cannot be intercepted by third parties.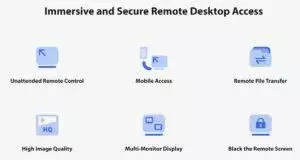 Moreover, AnyViewer utilizes dynamic passwords and two-factor authentication to prevent unauthorized access, providing an additional layer of security. The app does not store any personal data or session information on its servers, ensuring that your data remains private and secure.
In addition, AnyViewer enables you to set custom access permissions and password policies for different users or groups, giving you greater control over who can access your files and how they can interact with them. This ensures that your data is protected at all times, giving you peace of mind and the confidence to share your files without worrying about security risks.
User Interface and Ease of Use
One of the main advantages of AnyViewer is its simple and intuitive user interface. The software has two modes: host and client. The host mode allows users to share their screen with others, while the client mode allows users to connect to a shared screen. To start a session, users only need to enter the ID and password of the host computer. There is no need to install any software on the host computer, as AnyViewer can run as a portable application from a USB drive or a cloud service.
AnyViewer also supports various features that enhance the user experience, such as file transfer, chat, audio and video calls, clipboard synchronization, remote printing, and multi-monitor support. Users can also customize the display settings, such as resolution, color depth, and quality. Additionally, AnyViewer has a built-in encryption system that ensures the security and privacy of the data transmitted between the host and the client.
Pricing and Licensing
An advantage of AnyViewer is its flexible licensing and pricing options. The software offers three plans: free, personal, and business. The free plan permits users to connect to one computer at a time for personal use. The personal plan allows users to connect to up to three computers at a time for personal or commercial use, while the business plan enables users to connect to up to 10 computers simultaneously for commercial use. Additionally, AnyViewer does not require a subscription or registration process. Users can purchase the license online, activate it on their devices using a license key, and transfer it to another device if necessary.
Support and Resources
Finally, AnyViewer provides reliable and responsive support and resources for its users. The software has a comprehensive online help center that contains FAQs, tutorials, manuals, and troubleshooting guides. Users can also contact the support team via email or phone for any technical issues or inquiries. Furthermore, AnyViewer has a blog that posts regular updates, tips, and news about the software and the remote desktop industry.
Conclusion
AnyViewer is a remote desktop software for Windows and Mac that offers a simple and intuitive user interface, affordable and flexible pricing and licensing, and reliable and responsive support and resources. It is suitable for various purposes, such as technical support, remote work, online education, and personal use. Users who are looking for fast, secure, and easy-to-use remote desktop software may want to give AnyViewer a try.