Grow Castle Tower Defense for PC – Learn how to download and play it on Windows 11/10/8/7. 
Grow castle – Tower Defense is not your typical defense game. It was developed by RAON Games and is one of the highest-rated game apps in Google Playstore with up to 10,000,000 downloads and more.
With this game, practice lots of potential strategies to build the castle defenses against incoming invasion. Deploy your heroes and archers to protect the castle. Unlock more exciting levels and ranking as you defeat the waves of the enemy. Spend some of your gold to upgrade your castle, heroes, and archer. You can also choose to be the villain while you conquer other lands and acquire gold passively.
Now, you may find this game simple for a moment but after a wave or two, you become immensely challenged that the content, complexity, and features of this game make you feel active and passive. It's so rewarding to watch your enemies knockdown swiftly with your created strategy.
Though this app is running on the android system such as smartphones and tablets, you can now play it on your PC with a game loop that makes the apps run smoothly and worry-free from a drained battery. Enjoy the Grow castle –Tower defense on your large screens.
Let me begin by discussing the features and learn how to download and install this app on your PCs.
Features of the Grow Castle – Tower Defense Application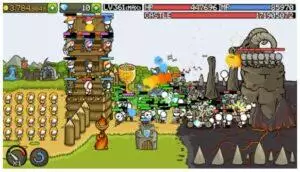 Begin your game by either selecting icon "Battle" if you want to deal with the first wave or clicking the icon "Choose" if you want to spend your gold for an upgrade on archers of the town or your castle itself.
Build your own castle and upgrade to boost its health and MP.
When you start a fresh game, there are 3 default heroes defending your castle. It will be enough to defend the assault from the first wave.
By upgrading your castle, it helps you gain more slots to put more heroes.
Heroes are designed uniquely from one another and each one possesses special skills. You can choose from more than 120 heroes available in the game. There is a hero promotion system that allows your hero a get even stronger as it reaches a certain rank.
Defeating your enemies, building colonies, and hiring workers means you can earn more gold.
Allows the player to create their own strategies on how to attack and defend against thousands of waves.
It takes you to a higher level every time you defeat the enemy's attack and experiences the new wave and rankings.
You can share your gameplay through networking sites like Reddit or communicate with other players by joining the online guild.
How To Download Grow Castle Tower Defense for your PC – Windows 11/10/8/7

To be able to play Tower Defense on your PC, you need to download software called android emulators. Android emulators are software tools that enable you to install mobile games and mobile apps on your PC.
Most of the apps and games available in the Playstore are accessible in an android emulator. There are several emulators available on the web for free that you can use but you may need to consider your desktop PC specs or laptop specs before you install to. Some emulators run smoothly only on a high-end PC some are not.
In this article, I will be featuring two emulators that you can use for PC specs with low-end and high-end specs respectively.
Using NoxPlayer
NoxPlayer is one of the most popular android emulators since it was created. No fee is needed for you to download this software. It allows you to tweak the settings for assigning keyboard and mouse controls. It provides very smooth performance and no slow down when running on powerful PC hardware.
Step 1: Download the installer file of NoxPlayer from the website.
Step 2: Install the NoxPlayer on your PC by clicking the exe installer file and just follow the installation procedure that will prompt on the screen.
Step 3: Once completed, click the NoxPlayer icon twice to initiate the emulator.
Step 4: Click the Google Playstore and download Grow Castle – Tower Defense.
Step 5: Now you can play and enjoy the game Grow Castle – Tower Defense on your PC.
Using MEmu
Not all users have powerful PC hardware, the reason that NoxPlayer is not advisable is that you will not be able to maximize its feature. So, it is recommended to use MEmu which will surely run on regular PC hardware. It can run most of the games and apps available in the Playstore smoothly.
Step 1: Go to the MEmu website and download the installer file.
Step 2: Double click the exe installer and follow the procedure of installation.
Step 3: Start the emulator by clicking the MEmu icon from the desktop or the program list.
Step 4: Open Google Playstore and download the Grow Castle – Tower Defense.
Step 5: Once the installation process is complete, Grow Castle – Tower Defense can be get started on your PC anytime.
FAQs
Do you want to get more information before using the Grow Castle Tower Defense on your PC? Here's the set of tips to guide you.
With an Android emulator, any games and other general android apps will be operating smoothly on Laptops or Desktops.
Grow Castle – Tower Defense is updated regularly.
The game can be played offline, of course with limited features, or played even on a slow internet connection.
There are barely any ads to distract your gameplay.
Before you download and install the emulator, always check the minimum requirements.
Conclusion
Definitely a fun and refreshing game to play with. So, hop on and download the Grow Castle – Tower Defense app and any android emulator of your choice. I advised you to follow the given instruction correctly and let's get into this immediately. Hope you had a great experience with these incredible heroes and different sets of castles and lots to discover as you unlock each level in this game.
Feel free to visit this page anytime, whenever you want to check out other articles for some other android application that you can use on your PC.