Have you accidentally deleted important files from your computer? Or perhaps your hard disk crashed, leaving you in a panic about lost data? Don't worry – there's hope! In this simple guide, we'll explore the world of disk data recovery and discover how you can quickly retrieve your precious files. We'll answer burning questions like "Can hard disk data be recovered?" and unveil easy steps for data recovery, even if you forgot to make backups. Plus, we'll introduce you to user-friendly software that can help you recover deleted files in a snap. Let's dive in and rescue your data!
Can Hard Disk Data be Recovered?
In computing, users often regret deleting their files. To recoup losses, some of them might raise questions as follows.
"Can hard disk data be recovered? Moreover, how to recover deleted files from Recycle Bin after emptying them? Any suggestions will be appreciated."
Please don't be concerned because it's possible to recover deleted files from hard drives, provided your local drive hasn't undergone physical harm. Being on this page signifies that you've come to the right place as this post is tailored for users seeking guidance on executing hard disk data recovery.
How to do Data Recovery from Hard Disks Without Backups?
Please avoid consuming additional usage for a higher disk data recovery rate.
In the Windows file system, the space where previously saved deleted files is designated as free space, allowing potential data recovery. Nevertheless, computer activities can automatically generate new files, risking overwriting this free space.
How to do data recovery from hard disks? In theory, consistent file backups could shield users from data loss, eliminating the need for powerful third-party tools. Yet, for those without backups, the only option might be turning to specialized hard disk data recovery software for assistance.
Recover Deleted Files from Hard drives via Data Recovery Software
Here comes a leading Windows recovery tool, MyRecover. This hard disk data recovery software stands out due to its competitiveness, convenience, and compatibility.
Supported by its advanced scanning method, MyRecover excels at recovering deleted and lost files from internal and external HDDs, USB sticks, memory cards, etc.
Other key features of this hard disk data recovery software are below:
Deal with data loss caused by deletion, disk formatting, virus attacks, or system crashes.
Recover 200+ file formats: images (JPG, PNG, DNG, TIFF, etc.), videos (MP4, MOV, AVI, etc.), audio (MP3, WAV, etc.), MS Office and WPS files, folders, compressed files, websites, etc.
Combined scanning method: Automatically run Quick Scan and Deep Scan to search all the recoverable files. During scanning, you can filter and preview your needed files according to filename, file format, saved path, storage size, deleted date, etc.
Good compatibility: Work well with Windows 11, 10, 8, 7, and Windows Server and support four file systems (NTFS, FAT32, exFAT, and ReFS).
Don't hesitate to download MyRecover to recover your missing files now!
Step 1. Install and launch MyRecover on your Windows PC > select the drive that saves your needed files before data loss > click Start Scan.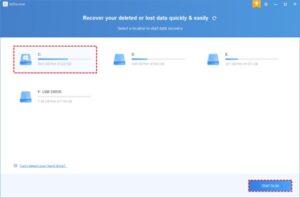 Step 2. After clicking Start Scan, MyRecover automatically runs Quick Scan and Deep Scan to detect all the retrievable files on your selected drive.
During scanning, you can filter and preview your desired files quickly according to Filename, Document Type, Path, Size, Date, etc.
Name: Type the relevant filename of your needed files to quickly locate them.
Date modified: Set the date (today, yesterday, last 7/30 days, etc.)
Size: Set the file size (<128KB, 128KB~1MB, 1MB~512MB, etc.)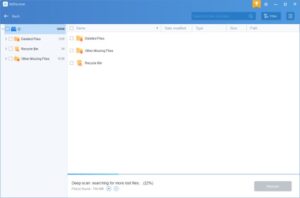 Step 3. Go to the Deleted Files/Recycle Bin/Other Missing Files folder, select the files you want to retrieve > click Recover x files to do data recovery from hard disks.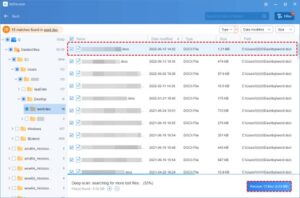 For those seeking to recover a multitude of deleted files from local hard drives, opting for an upgrade in MyRecover proves to be a financially savvy decision.
In the end
Sometimes, data loss might be inevitable in computing. So how to recover deleted files from hard drives after data loss? Foresighted users could restore their wanted files from prepared backups directly. In the absence of a routine backup practice, the time-efficient recourse involves harnessing the prowess of leading hard disk data recovery software.
To avoid regrets, please think twice or reconfirm the files you intend to delete.
More importantly, data backup is the most effective precaution against data loss. After realizing the importance of backups, it's imperative for you to create file, partition, disk, or system backups routinely via a free Windows backup tool, AOMEI Backupper Standard.