iBoysoft Data Recovery is free data recovery software that allows users to easily and quickly recover any files that have been lost or corrupted. This software has a friendly and intuitive user interface, which makes it easy to navigate for experienced and even inexperienced users alike. In this post, I will also provide instructions on how you can use the iBoysoft Data Recovery for Windows to recover the files that were already deleted.
About iBoysoft Data Recovery
Chengdu Aibo Tech Co. Ltd. is a software utility development business that uses the trademark iBoysoft which is based in the High-tech Zone, Chengdu, China. The company was founded in 2017. iBoysoft aims to develop and optimize the simplicity and power of its software and utilities to make its users' lives much easier, simpler, and more fun. They are committed to data security, disk management efficiency, and improving productivity in this digital era that we live in today.
What features does iBoysoft Data Recover Offer?
Deleted Files Recovery
Both "Delete" and "Shift+Delete" shortcuts within the iBoysoft file recovery program adequately allow retrieving of unintentionally deleted data as well as irreversibly erased files. Thus, the user can experience some functions, such as file recovery, hard disk data recovery, SD card recovery, and USB data recovery, on various Windows-compatible storage devices.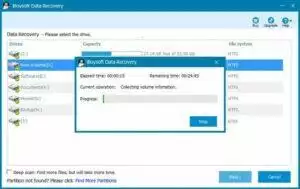 Recycle Bin Recovery
Retrieving deleted data from the recycle bin is made simple with the help of something like the iBoysoft Data Recovery software. Deleted files will be held in the recycle bin, waiting for recovery, just until you empty and delete the files inside the recycle bin. After a 30-day period, the deleted data will be instantly removed from the recycle bin.
Corrupted Disk Recovery
If the user encounters problems like their hard drive or external disk becoming corrupted and inaccessible as a byproduct of some situations such as a power outage, improper ejection, system crash, software error, or a faulty file system, this free, high-quality data recovery program is made to retrieve files from devices that appear to be dysfunctional.
Formatted Drive Recovery
Formatted partition results in the partition getting empty and all of the files being lost and disappearing. With the help of this hard drive recovery software, it can provide a dependable solution for retrieving files from a corrupted drive by re-creating the existing file system.
Lost Partition Recovery
iBoysoft Data Recovery Software provides an ultimate effective partition recovery for the users to use so that they can search for lost partitions that became hidden or were deleted accidentally or intentionally. This software will assist its users in recovering lost files such as images, video files, audio files, and any other missing or corrupted files on your computer.
Virus Infection Recovery
This software allows its users to recover their files that are lost because of a virus infection or malware. This does not happen occasionally, but when it does, it will lead to data loss. iBoysoft Data Recovery can help you easily recover files that were lost due to malicious software.
How to Use iBoysoft Data Recovery in Windows?
Step 1: Download and install iBoysoft Data Recovery for Windows 
It is recommended that you install the software on a separate drive to avoid overwriting data. The installation package's size is just small and will only take a little amount of time to install on your Windows PC. After the installation is done, run the application.
Step 2: Select a recovery module
iBoysoft Data Recovery software will offer its users up to three different recovery modules depending on the data loss scenarios; the Data Recovery module, the Raw Drive Recovery module, and the BitLocker Recovery module.
Step 3: Start scanning the drivers in your computer
Choose a drive where you need to recover your files. If the desired disk is not visible, select the drive containing the lost files and click "Find More Drives" located at the bottom of the box that appeared.
Click Next to start scanning. The default Quick Scan will automatically apply to restore your deleted file. You can also choose to use Deep Scan when Quick Scan isn't able to find the deleted files that you are searching for. Deepen Scan provides a complete scan and gives you the best results.
Step 4: Filtering the unimportant files
This software allows users to Only show deleted files. You can search for files by typing a specific file name or file format. This feature will help you save a lot of time than manually searching for the file that you're looking for. Right-click to preview the file. This will help you find the exact file that you want to recover in situations where the file you're looking for has many similar versions.
Step 5: Recover the deleted files
Select the files that you wish to recover by checking the box next to them and pressing the Recover button. The software will prompt you to choose a place for the restored file. It is important to remember to not use the same drive where you lost your data, as it may cause the files on your original drive to be corrupted and result in permanent data loss.
Our Opinion about iBoysoft Data Recovery
iBoysoft Data Recovery is one of the dozens of data-recovering software that are categorized for heavy duty. The software's data recovery program has a deep scan feature that allows you to recover much more files that were lost than other data recovery apps. With iBoysoft Data Recover, you may recover data from hard drives, formatted devices, and APFS formatted devices. The software also allows its users to recover missing files even from corrupted and unreadable data drives.
Conclusion
iBoysoft Data Recovery is the best data recovery software that is easy, quick, and most importantly, free. This software was already proven to be safe and secure. It is a solid data recovery tool that can recover your lost data in a much quicker way than other data recovery applications. If you are using Windows, we highly recommend that you use iBoysoft for data recovery.