When you have kids at home, your PC or mobile phone is always full of unwanted applications. They install apps that are harmful to our PC and phones, and sometimes only uninstalling them doesn't rid us of them. We need another cautious step forward.
The thing is, when potentially harmful software is installed into your system, it leaves files in different locations of your PC so that whenever you uninstall it, those residual files wouldn't let that software go entirely away.
As a result, harmful software sticks to your PC, threatening your privacy and data. I was in a long search for a mechanism that would ultimately destroy such software, and I finally succeeded after finding the solution.
The IObit Uninstaller for PC is the ultimate solution to such issues. It doesn't just remove a potentially harmful program; it destroys it from the root and makes sure that it doesn't stay inside your PC any longer.
What Is The IObit Uninstaller?
The IObit Uninstaller is modern uninstalling software designed to remove any stubborn software that doesn't go away easily using a standard uninstallation method. It makes sure that all the junk and harmful files delete permanently from your PC, making it as secure as a brand new system.
More About IObit
The IObit Company was founded in 2004 to provide ultimate security solutions to enhance PC privacy and maintain fast performance. The IObit company has won many awards and has a global 500M downloads. Since 2004, IObit has become everyone's favorite as they have committed themselves to providing more and better services to their clients.
The IObit Uninstaller is another gem in their crown. They have already introduced many similar products responsible for increasing the browser's speed, protecting the computer from malware, boosting games, smart defragmentation of the hard drive, and many other cool features.
Features Of The IObit Uninstaller
Let's dig a little deeper to know all the features of the IObit Uninstaller.
Removes Tough Software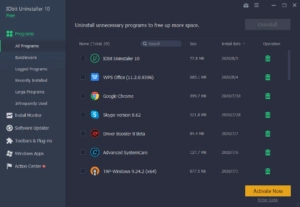 Installing lots of software, especially an internet browser, can slow down your PC. There is a dire need to remove unwanted software from your laptop.
Another significant issue is when you download bundled software as bundled ones are relatively tougher to remove than simple ones.
The built-in Windows uninstaller does a decent job uninstalling the software, but it cannot altogether remove all the junk files and bundle software.
The IObit Uninstaller takes the lead here to delete all the harmful and challenging software with a single click. Yes, all you need is to select the software you want to remove and click on the uninstall button.
This application will uninstall that software in half time, as compared to other uninstallers. This is not only the built-in database of IObit Uninstaller designed to remove stubborn software and its residue.
Safe And Secure Browsing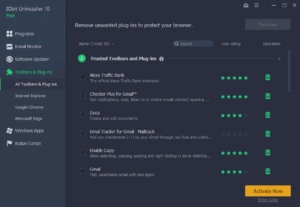 When you access the internet, many harmful files find their way into your computer, either through extensions or through web page downloads. Some malicious plug-ins can also become the cause of slowing down the computer and exposing it to cyber thefts.
The IObit Uninstaller takes another leap here and scans all the web pages that you go through. It will ultimately block the website or a toolbar that can record or steal the browsing data. These harmful toolbars also slow down your system.
Its database is responsible for identifying such harmful threats. It removes all the unwanted plug-ins and toolbars from your default and other browsers, increasing the browser's speed.
Moreover, the IObit Uninstaller also blocks unwanted pop-up notifications that annoy the users from time to time.
Efficient And Smooth System
The difference between a standard Windows uninstaller and the IObit Uninstaller is that the latter takes the responsibility of cleansing your system from all such software that weakens your computer. You get a healthy running PC in return.
Moreover, the IObit Uninstaller removes all the files, folders, registry files, or any leftovers in any folder that is related to particular software. In contrast, the regular uninstaller would uninstall the software without removing excessive files.
It also reminds you of the software, its update schedule, and which software can cause potential damage in the future.
Free Features
I was surprised to learn that the IObit Uninstaller has a free version too. The free IObit Uninstaller version does almost all the functionality as the paid version. The interface of both versions is the same.
In addition to this, if you want to try the paid version, which comes with more features like customer support and regular updates, you can pay for the yearly license of IObit Uninstaller.
The IObit Uninstaller also provides you with a free trial of their premium services, so you can try them before buying.
Works Well On Windows
Such unique and modern software is sometimes limited to the latest Windows version, but surprisingly, the IObit Uninstaller was made available for even Windows XP and Vista.
Moreover, the IObit Uninstaller on PC doesn't eat up your space much, so if your PC is low in storage, you can still get this fantastic software.
Removes Unused Applications
The IObit Uninstaller periodically reminds you to remove applications or programs that you are no longer using or have not used for quite a long time. The feature saves your disk space by efficiently removing such unused applications.
The Positive Traits Of IObit Uninstaller
A little look at the good things about IObit Uninstaller.
Free Version.
Cheap license for 3 PCs
Quick Installation
Drag and drop uninstallation
Folder and file shredder.
Final Verdict
The IObit Uninstaller for Windows PC is an excellent and lightweight option to relax your computer system from unwanted software.
It also helps your browser function smoothly. The most significant advantage of the IObit Uninstaller is batch uninstalling, which is quite crucial for some PCs. It is an excellent tool if you want your system to work with full health.
You Might Also Like: How To Download Plex On Windows PC