Are you looking for a way to download and install the LYKA for PC? Continue reading on and learn how to do it easily with our tutorial. But before discussing that, let us tell you more details about the LYKA app.
LYKA is a social media platform that allows people to discover things and connect with other individuals. It allows you to share different ideas and photos.
This application not only provides a common share and discovery of things. But it also lets you earn LYKA Gems for every engagement within the platform.
The LYKA gems can be used to purchase goods with selected stores ranging from awesome gadgets, hotel reservations, and many other gift certificates.
What Are The Features Of the LYKA App?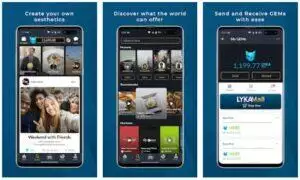 This app has many useful features, but we will only discuss the most important ones.
Gem System
This allows people to earn gems that can be obtained by gaining ratings. The more popular you are, the more gems you can earn.
Mall System
From here, you can exchange your hard-earned points for clothes, gadgets, certificates, tickets, and many more.
Chat
It allows you to create and manage group chats and then invite everyone you want be it friends, family, or colleagues.
Send And Receive Of LYKA Gems
You are also free to manage your LYKA gems by sending them to people or requesting people to send them to your account. This makes it easy by applying the QR code which can be scanned to process immediately.
Group Organizer
There is also a group organizer feature that allows you to segregate the people.
Video And Photo Poster
This social media platform won't be complete if there is no option to post your pictures or video.
Rate Your Friend
You have the option to rate people from one to five diamonds. Giving them a higher rating will help them to get more LYKA rewards.
QR Code Scanner
You don't have to memorize the long URL link of your friend's profile. With the QR code scanner, you can easily scan it and get to the profile easily.
With its many unique features, lots of people are starting to use this application on their smartphones. But some of us are looking for a way to use the LYKA for PC.  Now, we will discuss how to install it. Make sure that you read the details carefully so you will be able to install it without any problems.
How to Download LYKA For PC (Windows 11/10/8/7 & Mac)
https://youtu.be/1H9RjOUUEYs
When you visit their official website, you'll find out that the only option to install it is for Android and iOS phones. The Windows version does not exist as of now.
But this does not mean that there is no way to install it on computers. Downloading the LYKA for PC is very easy. But this requires your computer to have an Android emulator.
Without an emulator, there is no other way to install this on a computer. Now, follow the guide below to start installing.
Using Bluestacks to Download LYKA for PC

Get to the official website of BlueStacks and get the installer. You can also find our tutorial at this link.
Save a copy of the installer to your computer and then run it.
Just follow the installation guide on your screen.
After you completed the installation, you'll have the BlueStacks on your computer.
Open it and then go to the settings option.
Find the accounts and then click Gmail.
Use your existing account otherwise, you can make a new one.
Login to your account and start the Google Play Store.
Next is to find the LYKA using the search bar, make sure that the developers are "Things I Like Company Limited".
Hit the button to download the LYKA app on your computer.
When you completed the installation, you can run this app from your desktop by opening its shortcut.
Congratulations, you completed the installation of this application on your computer.
If you are using Mac, the procedure is almost the same. All you need to do is to get the Mac version of the BlueStacks.
Also, Check: Whatsapp Business – How To Download And Install On PC?
Popular Questions
Is there a dedicated Windows version of this app?
Unfortunately, this is the only way to run the Lyka for PC. Currently, the developers focus on the smartphone version of their app.
Does it make my computer slow?
That depends on your computer specs. Be sure that you have the minimum requirements of the BlueStacks. Otherwise, your computer will have a hard time running it.
Can my computer get a virus from LYKA?
No, we don't provide a tutorial that will harm our users. Both LYKA and BlueStacks applications can be trusted and they are legitimate software.
Final Thoughts
Millions of people are on social media. And almost everyone nowadays has an account for it. So, to maximize it, why don't we try monetizing our social media? By having the LYKA on your PC, you'll have a chance to become popular while earning money at the same time.
You Might Also Like: How To Download And Install Cash App On Windows PC?