There was a time when love was old school when Beethoven would write love letters for his dearly beloved when Shakespeare would make whole plays to confess and celebrate love.
Now, times have changed. New ways of finding love and making friends are on the rise. Thanks to this modernized digital world, dating has gone from love letters to text messages.
One doesn't find their sweetheart on the downtown alley, rather social media applications are where people find their new love and pals.
Talking about social media, Snapchat has been quite a popular way to make snap buddies and connect with people locally and internationally.
The app I am going to review today uses Snapchat to connect. The name of this fantastic application is called Hoop. Hoop has been quite popular since its release, and it has given Tinder and other dating apps a pretty tough competition.
Everything About The Hoop App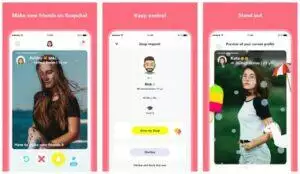 Hoop is a social networking application that allows users from Snapchat to connect. The functioning is simple, the user downloads the Hoop application, and then they connect their Snapchat app with Hoop.
The layout of the Hoop app is simple. It is somehow close to Tinder's interface. First of all, the user connects themselves to Hoop, and then they select some selected Snaps of theirs for the display.
Then they set their username for Hoop. After that, there are four buttons present underneath the display pictures. The first option is the refresh or replay button; the next option is the red cross, which, by pressing, removes the person from Hoop suggestions. The next button is the yellow Snapchat icon.
The Snapchat icon is a request for asking for the person's Snap ID. By clicking the Snapchat icon, one sends a request to the other person to share Snap ID. The fourth option is the diamond one. The diamonds in the Hoop app lets the users enjoy many cool features.
There is no chatting option available on the Hoop App. Those who connect and share their Snap IDs then add each other on Snapchat for further chats and fun.
Using the Hoop application can also increase an individual's Snapchat score. If someone recommends Hoop to a friend, and they install the app, then both of them get good scores.
Just like Snapchat score, the Hoop application contains diamonds. These diamonds can be used for various features in Hoop. One can earn more diamonds by logging in regularly, taking Hoop surveys, viewing videos, inviting and adding more friends, accepting Snap requests, and making new connections.
The Hoop application can be utilized both for finding a partner and a friend. Due to the non-availability of chat options, there are fewer options for harassment, which is useful, especially for female users.
Also, Read: Free Download – TextMe App On PC (Windows 10/8/7)
The Advantages And Disadvantages Of The Hoop App
Let's discuss the good and bad things about the Hoop app:
Good
User-friendly social app.
Automatically connects Snapchat.
Allows adding pictures for better interaction.
Bad
No age verification or guidelines.
Issues in logging in.
Doesn't show many suggestions sometimes.
Download Method Of The Hoop App For PC (Windows 11/10/8/7)
Downloading the Hoop application is relatively easy for iOS and Android devices. However, there is no Hoop version available for Windows and Mac. There is a way to let users enjoy Hoop on both PC and Mac, which will be explained later.
For now, let's dig into the details of how to download Hoop on supported devices.
To Download Hoop On Android Devices
The Hoop app can be used on Android phones and tablets. The Android version of Hoop gets regular updates like Snapchat, so there might be a chance that an outdated or old Android device might not run Hoop smoothly.
These are the minimum requirements for Hoop to run on Android devices:
Android 4.4 or later versions.
1 GB RAM or higher.
Snapchat installation.
After checking these guidelines, now is the time to download Hoop on Android. To do so, follow the instructions:
Go to the Google Play Store.
Navigate the search bar and type the app title "Hoop – New Friends on Snapchat."
Check out and confirm the developer Hoop app.
Click the install button, and install Hoop on Android devices.
The Hoop app is available to be used.
To Download Hoop On iOS
Hoop is also available on iOS supported devices like iPhone, iPad, and iPod touch. The minimum requirements to download Hoop on iOS supported devices are:
At least iOS 12.0 or later.
Snapchat installation.
To download Hoop on iOS, follow these steps:
To Download Hoop On Windows 11/10/8/7 PC And Mac
As said earlier, Hoop is only available for Android and iOS; therefore, there are alternate ways to download Hoop on PC, Windows, and Mac.
To download Hoop On Windows, one must take the assistance of a smooth Android Emulator to do the job.
To download Hoop for PC and Mac, follow these instructions:

Go to the website ldplayer.net.
Download the LD Playeremulator from there.
After that, it's time to locate the LD installer into the computer and launch it to begin the installation.
Follow the LD Player installation guide and proceed till it's installed.
Now enter the Google information to set up the account.
Now is the time to access the Google Play Store.
First of all, install Snapchat on the emulator.
Set up the Snapchat account.
After that, find the Hoop application and download it on LD Player.
Connect Snapchat with Hoop so that Hoop starts working.
It's done. Follow the same Hoop method for Mac.
Frequent Internet Related Searches
Is Hoop a dating app?
Hoop is a social networking app that is similar to dating apps.
Is Hoop safe for kids?
No, Hoop is suitable for adults only.
Can we buy diamonds on Hoop?
Yes, we can purchase diamonds to unlock its other features.
Final Lines
That's it. Hoop is a great way to find good Snapchatters and connect with them. Download the Hoop on your PC right away for unlimited fun and streaks.
You Might Also Like: How To Download And Install WhatsApp Business On Your PC?