Nighthawk for PC (Windows 11/10/8/7) – Manage your router from a computer or laptop.
Wireless internet is becoming a basic necessity of life. Internet is found everywhere in our daily life routine.
We require the internet for browsing social media, online shopping, streaming movies, listening to music, and online payments.
Some of these require your personal credentials as well. So, it doesn't need to be mentioned how important the security of your Wi-Fi is.
So, here we have brought an amazing app that not only keeps your internet connection safe but also you can manage your internet connection from anywhere using this app. it is called NETGEAR Nighthawk-WiFi Router App.
What is Nighthawk App?
Nighthawk is a Netgear Router App. It is a popular app that is used to control and manage Netgear wireless router.
The app allows you to set up, install and control the Wi-Fi router through a few easy steps. This app is available for both smartphones, Windows, and Mac.
The Nighthawk app comes with amazing and unique features like Armor security, speed test, traffic meter, guest Wi-Fi, etc.
How to Download Nighthawk for PC (Windows 11/10/8/7)?
You can download the Nighthawk app for your PC using an android emulator. You can download the app for both Windows and Mac in the same steps. Follow the given steps to install a Nighthawk app for PC.
Step 1:
Download an Android emulator. There are many emulators available in the market but Bluestack is the most popular and trustworthy among all.
You can download a Bluestacks emulator from its official website.
Step 2:
After that, run the installer and choose the location where it should be installed.
Step 3:
Once the installation is complete, you can launch it on your computer.
Step 4:
Now log in to your Google Account using your Gmail credential and open the Google Play Store.
Step 5:

Now open the search tab on the top of the page and search for NETGEAR Nighthawk-WiFi Router App.
Step 6:
Click on the 'Install' button to start downloading.
Step 7:
Once downloaded, you can open it from the home screen of the Bluestack emulator.
How to Create a NETGEAR Account and Set it up with Nighthawk App?
After installing the app, you have to create a NETGEAR account to control the router from your device. Follow the steps to create a Netgear account and set up it with the app.
Step 1:
Open the Nighthawk from the home screen of the emulator.
Step 2:
Click on the 'create Netgear account' option.
Step 3:
Provide the required information i.e. First name. Last name, E-mail address, and password.
Step 4:
you will get an update about your account's verification within 2 hours.
Step 5:
Once you get the verification update, again open the app and log in to your Netgear account.
Now you can easily set up your Netgear router with the nighthawk app in a few steps:
Step 6:
Open the app and sign in using your e-mail and password.
Step 7:
On the next screen, use your router credential to log in.
Step 8:
Follow the guidelines on the screen to set up Netgear Wi-Fi Router with the Nighthawk app. Once completed, click on the 'save' button to save the settings.
How to Change your Network's SSID and Password?
You can easily change your network SSID (network name) and password using the Nighthawk app by the given steps.
Open the app and log in to your account.
Click on the 'Wi-Fi Settings' from the dashboard.
Now tap on 'Wi-Fi Network Name' and enter your new SSID.
Also, change the password from 'Network Security Key' and click on the SAVE button.
That's it, you have successfully changed your network's SSID and password.
Features of the Nighthawk App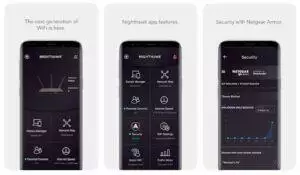 Wi-Fi Configuration
You can configure your Wi-Fi settings using this app like changing the network's SSID, password and security methods, etc. Along with that, you can also view the connected devices using this app. Nighthawk app also allows you to view the data usage. So, you can check the data coverage on the recent dates.
Guest Wi-Fi
This feature lets you connect to only allowed Wi-Fi connections. In order to secure the connection, you have to create a strong and long key of 15 to 16 characters along with some symbols. Not only that, it requires you to change your password every three months to ensure the security of your Wi-Fi connection.
Test your Wi-Fi Speed
You don't need to download additional software to test the speed of your Wi-Fi connection as you can use built-in speed tests like Ookla. Also, you can view the history to check the result of previous tests. Moreover, the Traffic Meter allows you to control the traffic on your internet.
The app also has various 'Selection Aspects'. This allows you to check which device has a faster internet connection and which has the lowest one.
Parental Control
This app allows you to monitor your child's online activities. This is very important due to the increase in malicious and harmful content. You can enable circles and set passwords to lock various things from your child.
Pause Wi-Fi
You can pause your connection for a certain period of time. So, you can use this feature during the study hours for your children.
Update the Firmware
You can also update the firmware of your Netgear router using the Nighthawk app. these updates ensure the maintenance of your router and solve various issues. You can check for the firmware update from the notification on the top of the dashboard in the app.
Other Features
Some other features of the Nighthawk app are:
You can manage your Wi-Fi from anywhere. You can enable or disable this 'Remote Access'.
It has advanced cybersecurity to keep your devices safe from internet threats.
You can set up a separate Wi-Fi connection for the guests.
You can block internet access to various devices.
Conclusion
Nighthawk is a great Wi-Fi router app. it allows you to control and manage your Wi-Fi connection from anywhere. It is compatible with all the devices and has advanced features to ensure the security of your internet.