Are you fond of The Filipino Channel and want to watch it on your TV? Well, this article is for you! In this article, you will know how to watch TFC on your Roku TV. But before that, I will introduce to you the device that will allow you to watch TFC on TV.
It is the Roku TV or Roku device. It is one of the great devices for smart TV users. You can watch a thousand channels with 500,000 episodes and movies here. On this device, you could enjoy streaming with no monthly fees for watching free channels, you just have to pay for subscription channels and TV show rentals.
The Filipino Channel is one of those channels you can watch on Roku. It is owned by Filipino media ABS-CBN corporation. TFC operates not only in the Philippines but also operates all over the world with over three million subscribers.
The Filipino Channel (iWantTFC Channel)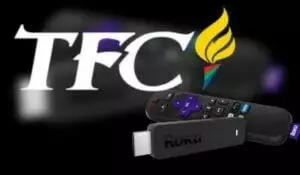 The Filipino channel better known as TFC is one of the most popular content platforms operated by ABS CBN corporation. It is now called the iWantTFC channel. You can enjoy a lot of content here like, sports, news and weather, education, movies, teleserye or soap opera, and other digital content.
Live video streaming is also available on this content platform. You can sign up or register on the iWantTFC app or you can download it from its website. We can download the app on Android, iOS, Samsung smart, and Roku. You can enjoy watching some content for free once you have signed in.
They also have an affordable service plan which is standard and premium. It will give you access to the iWantTFC full library which has over a thousand movies. This channel also has live video streaming or real-time streaming like TV shows and news.
iWantTFC Features
You can get free access to iWantTFC once you registered to the app or on its website.
If you want to have full access to iWantTFC full library contents, they have a premium and standard service plan.
By subscribing to its service plan, you will have access to the full library of more than 1,000 movies, all 86 iWantTFC originals episodes, live channels like Cinemo, Kapamilya channel, ABS-CBN's full inventory shows, all acquired content, ANC, TeleRadyo, knowledge channel, sports, starmagic Allstars, teleserye marathons, show with English subtitles, Educational, feel-good movies, and other digital content.
On iWantTFC, you can also do the playlist of your preferred movies.
Subscriptions are 15php per day 60php per week and 120php per month. Their service plan is available globally. You can subscribe to their service plan wherever you are in the world.
You can also do live video streaming on iWantTFC.
Now let's go to the steps of how you can watch TFC on Roku TV
Steps to Access TFC on Roku
Below are the steps that you can follow.
Step 1: Activate your TFC TV
Activate your TFC everywhere.
Click sign in to your Kapamilya account. Create one if you haven't signed up yet.
You will receive a TFC everywhere activation code on your email
Type the code to activate your TFC everywhere
Step 2. Add TFC on Roku
Set up your TV and Roku device
Once you're already on your home screen click the home option to reach the menu.
You will see a streaming channel, click on it
On the channel store, select search channels and find the Filipino channel
Now, once you find the iWantTFC channel, click on it to add it to your Roku TV.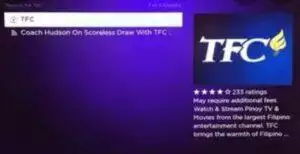 Now you can watch your favorite iWantTFC channel on a big screen.
FAQs
What is a Roku device?
It is one of the great streaming devices available in the market for SmartTV users where you can access a thousand channels and movies.
What is the iWantTFC Channel?
It is an international channel that is owned by one of the most popular media companies in the Philippines, ABS-CBN corporation where you can watch enjoyable content.
Is it free to use iWantTFC on Roku?
Once you sign up on iWantTFC you will get free access to live news, radio plus, and other free shows but if you want to have access to their full library, they offer a standard and premium service plan wherein you will be able to watch more than a thousand movies.
How much it will cost for the subscriptions?
iWantTFC service plan starts at 15php per day, if you want to get a weekly subscription, it will cost you 60php and if you want to do it monthly, it will cost you 120php per month.
Can I do a subscription even if I'm not in the Philippines?
Yes definitely, due to the fact that iWantTFC operates globally, their service plan is also available to other countries.
Where can I download I want TFC?  
You can download it from the google app store or the iWantTFC website.
Can I watch TFC on Roku TV?
Yes, you just have to download the app, activate
TFC and add it to your Roku TV.
https://youtu.be/NiTg6b7QBGY
Conclusion
TFC is one of the best content platforms where you could watch sports, entertainment, news and weather, educational, faith-based, movies, Filipino TV series, games, tv shows, game shows, and other digital content.
Furthermore, TFC allows us to create our playlist to make it easy for us to watch our most favorites movies. They also have an affordable service plan that starts at 15php up to 120php that varies on your preferred duration. On top of this, this content platform is compatible with iOS, Android, and your Roku TV.
Roku is one of the best streaming devices available in the market. To access TFC on Roku. You have to activate TFC and add on Roku TV. You can follow the steps given above on how to activate and install TFC on Roku and you can enjoy watching your favorite movies, Filipino TV series, sports, news, and games, and also doing live streaming on The Filipino Channel on your Roku TV.