I'm a full-time introvert. Games and editing apps are my only source of fun at home, and boy, I just love to play games all day.
Talking about games, there is a new game that has been on the top trend this year, and I have seen the biggest gaming names playing and live streaming it, so I also decided to play it and explain it to my audience.
The game is Among Us, and it's been currently played by millions of users globally. It is still increasing its users.
What Is Among Us?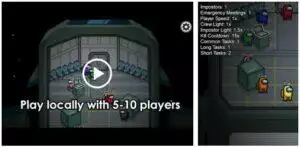 I was laughing when I downloaded Among Us on my phone. There were these little creatures who were out in an abandoned spaceship. These crewmates had a killer between them that took the shape of a crewmate to avoid suspicion.
To win this game, one has to find out the intruder and banish him before killing all your crewmates. A player can become a crewmate, as well as an intruder. Among Us is multiplayer, so you and your four to ten friends can play it together.
I personally liked being the intruder, as it gives you more control, and I almost feel like a David Fincher movie Villain.
Pros
Private table for friends.
Many people are playing it.
Free on smartphones.
Cons
Contains ads for the free version.
Paid version for ads.
The dedicated Windows version is a paid game.
Also, Read: Download And Play Carrom Pool Disc On Windows PC/ Mac Guide
How To Play Among Us On PC – Windows 11/10/8/7?
Among Us is almost everyone's favorite. We all love to become the imposter and kill other crewmates. But most gamers love playing these games on the big screen as bigger screens give more details, and you can lay better plans.
Currently, Among Us is only available for Android or Apple users. There is also a Windows version of Among Us on Steam, but you have to pay some bucks to get the app. It's free on others, though!
So, the thing is that Among Us is not available for Mac, or free, to be more precise. But don't worry, I will tell you how to get Among Us on your PC and Mac, both ways.
The Paid Version
The Among Us desktop version is available on Steam. To get the Among Us Windows version, you need to make a Steam account, find the Among Us game in their search bar, and then click on the buy Among Us option. It's not very expensive, though. After buying, Among Us is ready to be downloaded on your PC.
Now, start downloading the Among Us on your PC, and once the .exe file is downloaded, double-tap it, run the Among Us installer and let it finish the installation. Then you are ready to play this game on your PC.
The Free Method
Even though the paid version of Among Us is not that expensive, people like me would still love to download it free just as we do on our smartphones. So hear me out now.
To use the free version of Among Us on your Windows PC or Mac, you need to download software called the Android Emulator. An Android Emulator will work as an Android phone on your laptop or desktop, and you can download and play any Android application or game in it.
There are many decent emulators out there, but I would recommend using the BlueStacks emulator as I have personally used it, and my Among Us played real smooth on it.
The BlueStacks emulator runs smoothly on PC and Mac, especially for this game. You just need to be cautious about your laptop specs before getting it. Your computer must have at least 2 GB RAM and a Windows 10, 8, or 7 to download BlueStacks on it.
For Mac, you must at least have Mac Sierra 10.12 to run the BlueStacks emulator; otherwise, it would not properly function. To start playing the free version on your computer, make sure to read the next topic below.
Download Among Us For Windows PC/ Mac Using Emulator

Get the BlueStacks emulator into your computer. For more reference, you can visit this link.
Once you have the installer, you can start the installation of this emulator on your laptop or desktop.
To start the installation, double-click on the .exe file and run it on your PC.
Agree to the BlueStacks user agreement, and follow the simple installation steps until it says that BlueStacks has been installed. Keep in mind that the installation takes a bit of time if your computer is not very fast.
Now, assuming that you completed the installation, start exploring the BlueStacks by opening the generated shortcut on your computer.
Add your Google account by opening the Google Play Store. If you do not have one, then you can make it too.
After setting up your Google account with BlueStacks, you can finally access the market, and this is where you can find the Among Us game.
To start installing it, click the search box and type "Among Us."
Look out for the developer Innersloth LLC.
Hit the Among Us download button to initiate the installation.
It will start downloading; soon, you will see the Among Us game icon on your BlueStacks main screen.
It's done. Enjoy playing the Among Us on your computer or laptop using BlueStacks.
Among Us PC FAQs
How can I join Among Us?
Go to the online main menu of Among Us. Enter your nickname, select a private or public host, and create the session. Play with random people on the public host or with your friends in a private session.
How do you kill in Among Us?
Go closer to your target; you will see the Kill button on the bottom right corner. As soon as the kill option lights up, kill the person. You can then run away or call for help after killing.
Can you kill an imposter in Among Us?
Imposters are alien creatures in Among Us, what you can do is vote out the suspicious player in the emergency meeting, and it will be ejected out of the space shuttle and map. That would be the death of it.
I used the emulator to play Among Us on my PC, but it won't work properly; what's the problem?
In order to play it on an emulator successfully, you have to ensure that your computer or laptop has at least or more than the minimum spec requirements of the emulator. If your PC is not powerful enough for it, you cannot run this software properly. Also, make sure that you turn on the Virtualization technology on your BIOS for a performance boost.
Summary
To 'sus' or not to 'sus'? The Among Us is a perfect killer of your boredom. I highly recommend it for people looking for fun and unique gameplay.
You Might Also Like: How To Download StreamLabs On Your Computer?