A proper way to communicate will lead to a successful business. This is why it is important to use a powerful application to establish the right communication between people. One of the most trusted brands that provide a business class application for the conference is Cisco. They are known providers of routers, switches, hubs, and security. And now they have expanded and provided us with a secure and great way to communicate using their software called Cisco Webex Meetings. It is cross-platform so that any device from Android, iOS, and computers can be connected to it. If you want to install the Cisco Webex for PC, read along to get the details about it.
Here is a short review of the Cisco Webex app that can help you to get familiar with this app.
You Might Also Find Interesting: Workday App For PC – Download And Install Guide On Windows/Mac
About Cisco Webex For PC And Mobile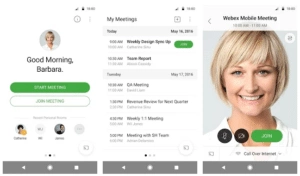 In this modern-day, your work does not always happen during its working hours. And it does not always happen at your workplace. In some cases, an incident occurs during an unexpected time, such as your day off, when you go home, or during the nighttime. And that's why communication is crucial for these problems.
With the Cisco Webex app, you can discuss the problem of meetings whenever you are. You don't need to attend physically a conference to discuss the minutes of the sessions. You can use your smartphone or run the Cisco Webex for PC, and the choice is yours.
Joining a meeting is hassle-free with this software. All you need to do is to access the My Meetings tab and find an invitation so you can join them.
The Cisco Webex app also supports the voice command. So, if your hands are already full or too busy for it, you can simply talk and start the command in order to open this app.
During the meeting, you can expect that this app will deliver a high-quality video meeting directly from your device with multiple layout options. But keep in mind that it needs a fast internet in order to provide it.
When you want to show something at the meeting, you can use the share screen command, and you'll be able to show your work to your colleagues. Not only that, but you can also mark to show them and highlight the important part so they can easily understand it.
In case you have missed a meeting, you can still listen to the previous recordings by playing and listening to it. In that case, you won't miss what your colleagues are talking about.
Mainstream Features
It allows you to join and present any kind of meeting, such as an event, discussion, or training session.
You can send commands using your voice using the Google Assistant or Google Home Hub technology.
Join directly in the meetings by selecting from your widget or calendar.
You can customize the layouts of videos and adjust the virtual backgrounds according to your requirements.
You can playback the meetings directly from your device by going to the in-app recordings.
It allows you to share the screen during meetings with your colleagues.
How To Install The Cisco Webex App On PC – Windows 11/10/8/7 or Mac
Like most Android applications, the Cisco Webex app is also designed to work with phones. To get it, all you need to do is to download the app from the Google Play Store.
It won't require you to spend a single dime to get it. Additionally, for iOS users, instead of going to the Play Store, you have to get it from the AppStore.
In some cases, you prefer using the Cisco Webex on a PC, and in order to do that, you can go to the website of it and find the option for Windows or Mac.
Depending on your Operating System, click the download button, which indicates your OS. After that, locate the installer file and double-click it.
Complete the installation procedure, and then after that, open it on your desktop. In this way, you have completed the installation of the Cisco Webex for Windows PC or Mac.
Also, Read: How To Install And Use Zosi Smart App On Windows & Mac
Other Ways To Install Cisco Webex On PC
There's another way to install the Cisco Webex on your PC. However, this requires you a much more powerful computer because you are going to need to use an Android emulator.
If you think that you have a good computer and will be able to run it properly, then you can start downloading an emulator specifically, BlueStacks.
We recommend using BlueStacks when it comes to emulators because it is fast and simple to install. To get it, continue reading on and follow the method listed here.

Download the installer from the BlueStacks website and then save it to your desktop or downloads folder.
Run the installer and follow the installation procedure to install it properly.
Make sure to accept the terms and conditions and then continue to install it.
Wait for 10 – 20 minutes to complete the installation. Ensure that you are connected to the internet while it is installed.
You'll have a shortcut to this emulator on your computer once you completed the installation, open it to start the BlueStacks.
Go to the Play Store app and open it. Start entering your Gmail account to get access to Play Store.
Search for the Cisco Webex Meetings app and then click the install button.
Once you completed it, the Cisco Webex app on your PC will be installed, locate it as a shortcut, and open it from your desktop or BlueStacks home.
Common Questions
You are reading this because you might need more information about the Cisco Webex app. Below is the most common question that might save you time and trouble when using it on a PC.
1. Is there any other way to use the Cisco Webex Meetings on PC?
Yes, there's another way to use the Cisco Webex for PC, and you only need a web browser for it. All you need to do is to go to the Google Chrome Extension and search for it and then install it. This is another quick way to use the Cisco Webex app on your PC. But keep in mind that this is only a browser extension, so other features might not be available on it.
2. I used the emulator to run the Cisco Webex app, but it is slow. How do I fix it?
Unfortunately, the emulator requires your computer to have fast computing power. If you are using an old PC, or computer with only one core, you might not be able to run it properly. Additionally, you can also enable Intel-vt and AMD-v to increase the speed of the emulator.
3. How do I fix poor video quality?
Once you sign into this app, click the Configuration> Common Site Settings and then Options. Tick the high-quality video meetings checkbox and update your configuration. Remember, you need to have fast internet to ensure that you can use this feature properly.
Last Words
Cisco products are top-notched and will deliver or exceed your expectations. With its ability to run on different devices, all of the workmates or colleagues will be able to use the Cisco Webex for PC, smartphones, or laptops.
You Might Also Like: How To Download GoToMeeting App On Windows PC/Mac?