Creating a native Android app may sound a bit complicated. Suppose you are not an experienced developer or programmer, the more complex the app, the harder it to make. However, when you consider using a fast way to create apps using the Sketchware, you will be able to make an app even with basic coding knowledge. With this feature alone, a lot of people become interested in this app. That's enough reason to make people wonder if there is a way to download Sketchware for PC.
As of now, the Sketchware app can only be download for Android devices. The Sketchware PC version needs another tool to make it work on computers.
Before discussing it further, let us tell you more information regarding the Sketchware app.
How To Use And Make An App With Sketchware On PC/Mobile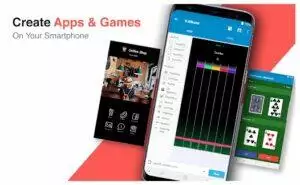 Before you make an app from Sketchware, it is highly recommended to know the following:
More Similar Apps: SoloLearn App For PC – Download And Install On Windows/Mac
Getting Familiar With The Home Features
When creating an app, it will bring you to its first screen, which is called Shared Projects. From here, you can find and see the other project shared by other people who use the Sketchware. You can open it and leave a like or comment on the projects. The home page also refreshes as well, so you can find a new app listed by other people as well as news for Sketchware projects.
If you are out of an idea, you can use it to make one so that you can create your app. Once you finished making an app, you can also share it with other users of Sketchware.
Start Making An App
If you are already familiar with its interface, you can select making a Custom Project, or start an app from scratch. However, if you are still in the learning phase, it is highly recommended to open the Sketchware samples.
In that case, you can explore it more and start to familiarize yourself with its environment. You can also get ideas with other people who can help you a lot to know how the app works. But keep in mind that these all depend on you. You can choose to jump immediately on a custom project or not.
You will notice that there is a floating plus sign button.
When you are creating an app of your own with Sketchware, there will be a floating plus sign button at the bottom of the screen. Clicking it will allow you to set properties of your project, enter the name of your app, and then save it.
Once you saved it, it will bring you to another window screen, which is called, the editor.
View Editor
This is the window where you can design your own app. You will find an option to add widgets to add clickable buttons, captions, text, and many more. The layout option also allows you to configure the widgets in different screen orientations.
Code Editor
The code editor is where you can set instructions for your program. This is where you can control the behavior of your app like, for example, what will happen if you click the button and so on.
There are two functions of the code editor; these are the events and components. In the events, it refers to the action of its users while the components work in the background.
Once you are familiarized and knowledgeable enough on creating apps from Sketchware, you can start and apply more advanced functions such as playing an audio or making a vibration.
Also, Check: IFTTT App For Windows & Mac – Free Download
Pros
It allows you to create an app rapidly.
There is no need to have professional skills in programming.
You can save more budget when developing an app from it.
The interface is easy to understand.
There is no self-promotion or watermark embedded in it.
It allows you to upload your app on Google Play Store.
Cons
You are bound to a particular platform.
Extensions are difficult to find.
Some template designs are limited.
You will find several ads on this app.
How To Download Sketchware For PC – Windows 11/10/8/7

As you might already know, the Sketchware app is exclusive for Android devices. The installer can be downloaded from the Google Play Store. Although that there's an APK, you can only use it on Android devices.
The only way to use the Sketchware on PC is to install it from an emulator. If you try searching for an emulator, you will find that there's a lot of results.
So, it might get confusing which one to install. In our opinion, the BlueStacks emulator is currently the best one because it can run the Sketchware on Windows PC/Mac seamlessly.
To get this emulator, all you need to do is download it. Once you have the installer, open it to start the installation setup.
You must agree to its terms and conditions before you can continue the installation and then click the install button.
Once you have completed the installation of the BlueStacks, you can now open it by going to the desktop of your computer. If you cannot find it, check your start menu and then type its name to search it.
Now, go to Play Store and set up an account for it. You can use your old Gmail account or create one for it. After that, you can start the search for the Sketchware.
Hit the button for the install to download it to BlueStacks. And once you completed it, you can open the shortcut of Sketchware for PC from your desktop.
In some cases, it won't create a shortcut on the desktop. So, you need to go to the home of the BlueStacks emulator and then find the Sketchware on it.
Common Questions Asked About Sketchware App
Can I use the Sketchware app on my PC without BlueStacks?
Sorry, but there is no other way to install the Sketchware app for PC. You will need an emulator to install it on your computer. As of now, the Sketchware is only available for smartphones.
Do I need to purchase the Sketchware for PC?
Yes and no. Although it is free to download from Google Play Store, they also offer in-app purchases as well. This will unlock some of its features, including the removal of ads.
Is it safe to use on my PC?
Yes, the Sketchware is a very safe application. Obviously, Google Play will not allow it on their market if this app has malware or any harmful codes that can damage the smartphone or computer.
Final Thoughts
Nowadays, creating an application for Android is easy. With the help of Sketchware on PC, you can start your imagination and create your desired app on it. Truly, this app is a wonderful software for hobbyists, students, as well as professionals.
You Might Also Like: How To Download And Install Cisco Webex Meetings On PC?