Well, hello there; I welcome you back to another compelling app review by me. Today, while I was using WhatsApp, I suddenly realized that something is lacking in it. I then came to the decision that WhatsApp lacks a bright and colorful show of details. Little emojis and gif images also made me bored.
So what to do? Well, I searched and searched like that thirsty crow, and lo! There it was –A perfect messaging application that had it all.
If you've guessed it too, then let's start our review of the famous GroupMe messaging application without further ado.
Also, Read: Download Guide For Tango App – Windows/ Mac
What is GroupMe?
GroupMe is a Microsoft-owned messaging application that was launched by the GroupMe Company a decade ago. GroupMe was built for desktop users, and later it was included in iOS, Android, and Windows Store.
The GroupMe application saw a tremendous increase in its users each month as June of 2012 recorded 4.6M users and a whopping 556M messages sent to that point.
GroupMe was built for a healthy, social, and intellectual connection between students, teachers, coworkers, employers, and other professions. It paved the way for E-learning by inducing Skype calls way before WhatsApp added its video calling feature.
What Does The GroupMe Application Offers?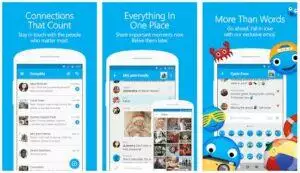 The GroupMe application has a lot to offer to its users. Let's compile a list of a few:
Multi-functional Chats
GroupMe chatting is the best feature. You can add someone through their contact numbers in the chat. Surprisingly, you can add someone through an Email, too, unlike other chatting apps that only require a number.
What's fascinating about GroupMe chats is that you don't need to install the GroupMe app to have a chat. You can create a group chat in your phonebook and messaging by following the GroupMe hashtag format.
Vast Groups
No other chatting application gives you as much group chat privileges as the GroupMe app does. How? It provides a graphical interaction for you; you can heart react to each other's texts, send important data like files and events, or share fun stuff like pictures and cute videos.
The group limit on other applications does not cross over 200 or 250 maximum. GroupMe has a considerably larger number of group participants, maximizing up to 500 members.
Authoritative Controls
You got the authority to control your GroupMe profile. Choose what type of push notifications you want to receive. You can have the hidden-content push notifications display too.
Other than that, GroupMe allows you to manage your groups and chats. If you want to add/remove a contact from your group, do it. If you want to block or restrict a specific user in GroupMe, you can.
You can also enable notifications for chats of only a selected number of people. This feature will greatly help you if you are an "annoyed by notifications" person.
Hearty Memories
There's not a single heart-melting moment that the GroupMe chatting application will miss. Yes, share your memorable days through pictures and videos with others on the GroupMe app and invite them to your happy and gloomy moments.
The smart memory of GroupMe will remember a specific event, and it will remind you after a year about its anniversary so that you can relive those happy moments once again.
Emoji It Out
As I already said, the thing that makes GroupMe so good is its liveliness. The clusters of emojis in the GroupMe are never-ending. Go search for a specific emoji according to your mood and show it off to others by sharing it with your chats and groups.
Global Connection
Feel globally connected with every type of community. How does one do that? By sending each other messages with mutual interests.
For example, a global meme group on GroupMe will allow every participant to search and send memes of their choice to cheer everyone.
Moreover, you can search for cool gif images and never-ending stickers from the vast GroupMe library. Search one of your particular interests and share it with others too.
Video Chats
One of the most productive features of GroupMe that can come in handy, especially during these days, is the video calling system. Skype integration in the GroupMe app has made our lives easier since then.
You can use the GroupMe individual video call option or go for a conference one for party plans, book readings, studying, intellect sharing, family interactions, etc.
What's On and Off About GroupMe?
Scene on
GroupMe is free of cost.
It lets you add members through QR code and Emails.
This application allows you to create quick polls.
Group name and icon customization.
GroupMe lets you share calendars and events.
Easy invitation method.
Scene off
Notifications do not display
Re-installing does not bring back old groups
Trouble sending messages
Getting out of GroupMe will stop the app from receiving messages.
Malfunctioning of certain features.
How To Download The GroupMe App On PC – Windows 11/10/8/7?
GroupMe is available for both Android and iPhone users.
In case you want the GroupMe for your PC, then here's what you need to do:
For Windows 7 and Older
Go to your computer's internet browser.
Search for www.groupme.com. You will be redirected to GroupMe main page.
Login to your GroupMe with your Email or Facebook
There, you can use GroupMe on your desktop.
For Windows 8, 10 and 11
Since Windows 8, 10, and 11 have a Microsoft Store so we will download GroupMe from there.
Go to the store, type GroupMe in the search bar.
Hit the download and enjoy unlimited chats with GroupMe.
Using an Emulator

You can also easily download it using an Emulator as well. We recommend you to use BlueStacks because it's easier to download it and doesn't contain any virus.
Find a suitable version of the installer for your computer from the official website. After that, click the executable file that you have downloaded and run it.
Once the Bluestacks is installed on your PC, enter the Google ID from the Play Store, and connect your account to it.
Start the search for the GroupMe app and download it. In this way, you can easily use the GroupMe on PC, Windows, and Mac.
In case you are using a Mac, the installation is almost the same. Be sure to get the installer for Mac.
FAQ's on GroupMe App (PC/Mobile)
What is GroupMe?
GroupMe is a fun messaging app that can be used to communicate with your family and friends.
Is GroupMe free?
Yes, the GroupMe messaging app does not charge you any money for sending messages.
Does GroupMe show your phone number?
No, the GroupMe app never shares your number or Email with anyone.
Can I use the GroupMe app on my PC without Bluestacks?
The good thing about the GroupMe app is it also has a web app version. So, if you don't want an installer for Windows or Mac, or an emulator, then you can also access it from their official website.
Final Words
Sometimes it's fine to try other chatting apps too. GroupMe is a fantastic app for connecting with your pals and coworkers – Download it to experience a great alternative messaging app.
You Might Also Like: How To Download And Install Notability App On Windows PC