Lookout Security for PC is an antivirus that protects your mobiles, tablets, and computers from malware attacks.
Due to Global Pandemic, every single matter has been converted to online mode either personal or professional.
So, you need an antivirus to protect your device from cyber-attacks.
Lookout aims to provide ultimate security to your devices to ensure a safe digital future.
The Basic Security Features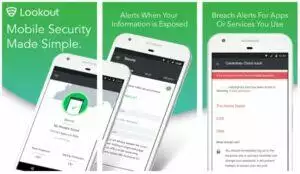 There are multiple types of accounts. Each of them provides the best security. However, being with the premium and premium plus gives more advantages. See the list of the Lookout Security app for PC features below.
Protects from Malware
Lookout aims to provide complete protection to your device from malware attacks. It scans your device for almost 2 minutes and detects the malicious software if any. Along with that, it provides a complete step-by-step guide to fixing that issue. It has the features of App defense, Modern Endpoint Protection, Risk and Compliance, and Threat Intelligence.
When malware is detected, it alerts you by sending a notification and allows you to proceed according to your choice. So, you can keep your data safe and sound using a Lookout Antivirus.
Security Tools
The app contains various security tools like 'Find My Phone' and 'System Adviser'.
'Find my Phone' allows you to locate your phone in case of any mishap. You can use this feature in the free version as well. It provides a full-screen map along with various icons to locate your phone. In case, the battery of your phone dies, it saves the last location to your web portal.
'System Adviser' is responsible for maintaining the proper functioning of the Operating System by checking the root detections of the system.
Lookout Security for PC Premium Security Features
Privacy Adviser
This feature lets you know what permissions or access are given to a particular app. you can click on a particular app like Camera and you'll get the list of the apps that have access to your camera. Also, you can manage that permission according to your preference.
Keeps your Data Safe
Lookout Security and antivirus have their own built-in VPN. A Virtual Private Network makes a safe connection between the internet and your device. It functions constantly and keeps your browsing safe.
Don't forget to enable this function once you switch to the Premium Plan.
Safe Wi-Fi Connection
Lookout helps your deice to choose a safe Wi-Fi connection. Mostly public internet connections increase the risk of Cyber-attacks. So, you can overcome this problem using Lookout Security and Antivirus.
Find My Phone
Find my phone in the premium package has some amazing features that can save your phone. That includes a custom message that appears on the screen for the person who finds the phone. You can add up an email or a number to your lock screen. It gives you many triggers like sim removed, flight mode on, switching off the device, and uninstalling Lookout once you send the 'Scream' command.
Lookout Security for PC Premium Plus Security Features
Insurance and Identity Restoration
In the Premium Plus plan, the lookout offers to allow you to have access to ID restoration experts. Along with that, it offers you "1 Million Dollar, Identity Theft Insurance". Also, you may contact them 24/7 through a link that is available in the Contact Us option of the insurance feature.
Identity Theft Protection
This feature aims to keep your personal information safe. It notices you if you log in through your mail to any malicious website. Moreover, it helps you identify the spam posts on social media in case you are linked with them in any way.
How to Register for the App?
Once the app is downloaded, you have to register in order to use it.
When you open the app, a demo will appear showing the brief features of the app.
Now enter an e-mail address to register. This e-mail will be required to access the lookout so remember it.
You can also use this e-mail to log into Lookout.
Features of the Lookout Security and Antivirus according to their Plans:
This app has three plans, Basic (free), Premium, and Premium Plus. The function of the antivirus varies according to the plans.
How to Download Lookout Security for PC using Bluestacks?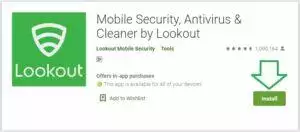 Step #1
Download a BlueStacks emulator on your PC. Once downloaded, open the home screen in the emulator.
Step #2
Google Play Store is already installed in the Bluestacks emulator. Find the icon and open it.
Step #3
Now search for Mobile Security, Antivirus, and Cleaner by Lookout. Click on the install button and it will start to download. It is installed in Bluestacks.
Once the downloading is complete, you can find it under the option of 'list of installed apps in BlueStacks.
How to Download Lookout Security for PC using MemuPlay?
Step #1
First, you have to install MemuPlay.
Step #2
After downloading, sign in to your google account using Gmail credentials.
Step #3
Now, open the Google Play store and search for Mobile Security, Antivirus, and Cleaner by Lookout.
Step #4
Click on the install button. Once the download is complete, it will appear on the home screen of MemuPlay.
FAQs
How many devices can I add to my Lookout account?
You can add up to 5 devices in your lookout plan either free or a premium. You just need to install the app on a particular device and then click on 'already have an account? Log In'. This way you can log in to other devices as well.
How do I locate my stolen phone on the lookout app?
Login to your lookout account.
Go to locate the device from the top of the page.
It will show you a map of your device is located.
Also, you can enable "scream, lock, or wipe my device" options.
Can I log in to my Lookout account using a phone no?
No! You can't. Lookout is an antivirus that aims to provide security to your privacy. So, the authentic and secured way to login into your lookout account is using your email.
Conclusion
Lookout is an amazing app that keeps your device and privacy secured by detecting and protecting you from malware. Furthermore, it has a simple interface that is easy to use and manage your device. Additionally, you can use the Lookout Security for PC on your Windows or Mac if you install it from an Android emulator software.
You Might Also Like: How To Download Zapya App On PC – Windows & Mac