Zapya is a popular app to transfer files between different devices without an internet connection. It has over 300 million users across the world.
This app is available for multiple devices like IOS, Android, Windows (Phone/PC), and Mac. It is a user-friendly app that is simple to use and supports many formats of files.
Here is a complete guide to downloading Zapya for PC along with some notable features of the Zapya app that makes it a reliable and cool cross-platform transfer app.
Important Features of Zapya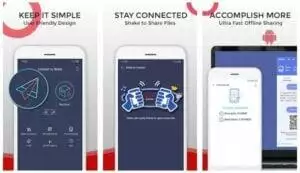 Share Unlimited Files
Unlike many file transferring apps, it allows you to transfer files of any size without any disruption. Zapya does not have any limit on the size or number of the files that can be shared. You can share any type of file either document, pdf, audio, video, or images. You just need to drag the file and then drop it to start transferring.
Transfer Files in Group
Zapya has a unique feature of 'any to any' transfer. This feature allows you to transfer the files between five devices at the same time. This feature to share files in a group can save you a lot of time. So, Zapya can be your ultimate preference, if you want to share files on a large scale. Due to this, it is compatible with both enthusiasts and novices.
User-Friendly Interface
Zapya has a simple interface that makes it easily accessible for users. You can easily connect other devices by scanning their QR codes. Also, all the history of the file transfer is recorded that you can review from the storage of the app when needed. Along with that, you can change anything according to your choice from the settings. Furthermore, this app is 100% virus-free and does not cannot any malware programs.
Multi-Language
One of the best features of this app is that it supports up to 20 languages. So, users from different parts of the world can use this app in their native language without any distractions. Some languages supported by this app are English, Simplified and Traditional Chinese, Thai, Russian, Arabic, Vietnamese, Persian, Spanish and Indonesian.
Note: Mostly, the default language of the app is Chinese when downloaded as it is originally a Chinese app. So, no need to panic, you can change it easily from the settings.
Supports Windows
Unlike many other apps that are only available for android and IOS. This app is also available for Mac and Windows as well.
It does require a set-up of 34 bit or 64 bit to run smoothly. Also, Windows XP is required for the reliable processing of the app. It supports Windows 7, Windows 8, Windows 8.1, Windows 10, and Windows Vista.
No Internet
Sharing a large number of files can take a lot of time on the internet especially if you have a poor internet connection. So, you can use a Zapya app as it allows you to transfer files among many devices without an internet connection.
Free To Use
Usually, these type of apps only allows a limited transfer of files in the free version. Then you have to subscribe to the free version for further sharing. However, the Zapya app is totally free and you can share unlimited files of any size without any worries.
Speedy Transfer of Files
You can transfer GBs of files within minutes through a Zapya app. It transfers the files at the minimum rate of 15 MBps. So, you can have a non-disruptive transfer of files through Zapya.
How to Download and Install Zapya for PC – Windows 11/10/8/7 & Mac?
Most of the file-sharing apps are only available for android. So, you have to use an emulator to download it for PC. But you can directly download Zapya for PC as it is available for Windows as well. Follow the given steps to download Zapya for PC.

Step # 1
Open your preferred browser on the PC.
Now open the official site of Zapya.
Once opened, click on the 'Download Zapya for PC Windows' button to start downloading.
Step # 2
The next step is to install the downloaded Zapya App on your PC.
So run the 'setup.exe' and select the installer according to your preference.
Step # 3
After that, select the folder to save the software. The app creates its shortcut on the desktop automatically.
Click on it to open the app and start using it.
Similar Apps to Zapya
Instead of sharing your files through Social media and e-mails, try to use file transfer apps. They can transfer the files smoothly and at a faster rate. Zapya is considered one of the best apps to transfer files among different devices because of its amazing features.
Here are some similar apps that can be used as alternatives to Zapya, in case you do not find it working for you.
Share it
Everyone is familiar with the name of Share it. It allows you to share any type of files like videos, audio, images, pdf, and documents in any format. Share it lets you transfer the files at the rate of 10 MBps.
After Zapya, it is the most commonly used app for transferring files. This app is available for Windows, Android, and IOS.
CM Transfer
You cannot only share audio and videos through this app, but you can also share contact and interesting apps as well. It allows you to transfer the files at 10 MBps which is not bad. It has a user-friendly interface that lets you share different files in many formats.
Fast File Transfer
Another amazing app that can serve as a good alternative to Zapya. This app allows you to share files and even folders as well. You can share a file of 1 GB in 4 minutes only. It supports many formats as well. So, you can save your lot of data by transferring files through this app.
Final Words
With this amazing software, you can transfer your files across your devices. This makes the backup of files or just sharing it with someone else becomes more simple. Start downloading the Zapya for PC now.
You Might Also Like: How To Download SHARE Go On PC – Windows 10/8/7