What is the biggest issue of this World? Some would say wars; some would point out radicalization, while others would blame the politicians and world leaders.
Let me tell you the most significant issue for me in my student days –The one and only Mathematics. Ughhhhh! Hate it.
Solving math problems was the most challenging task for me, and to be very honest, it still is. I had no help other than my lectures when I was a student. Luckily, those times have changed now.
This is why I feel proud to introduce an application that has helped many students in their math problems –also known as the Mathway app, which can be installed on the PC as well as mobile phones.
Also Read: Enhance Your Vocabulary With U-Dictionary App On PC
What Is Mathway App?
Mathway is an application explicitly designed to do just one thing –Solve mathematical calculations.
Now there are almost millions of billions of math issues that need to be equated. It can be a rigid algebraic expression, annoying trigonometry, or even the devil itself, aka Calculus.
Mathway is one of the best applications for solving your questions and helping you to learn better.
What Are The Problems That Mathway App Can Solve?
Let's categorize all the math problems that Mathway can solve: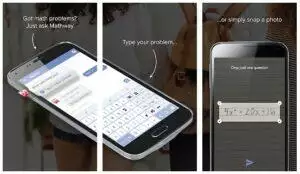 Basic Math
Do quick calculations as you do on a calculator. Whether it's dividing numbers or multiplying them –it's easy, quick, and fun. Square and square root are there to help you as well. Perfect for children's homework!
Pre-Algebra
When maths couldn't get any more complicated, Algebra came! Solve your pre-algebraic equations. Mathway now solves all your questions about decimals, fractions, factors, integers, and arithmetic within nanoseconds.
Algebra
It doesn't matter how challenging your Algebraic expressions are. Mathway is there to save your day. Double-check your answers with the Mathway app to check if you are going right. Solve problems containing linear equations and inequalities, absolute integers, graphs and logs, matrices, functions, and quadratic equations and inequalities.
Trigonometry and Precalculus
Learn the essential art of trigonometry through Mathway. No other application gives you such accurate trigonometric solutions as Mathway. Problems related to trigonometric functions, complex numbers, vectors and matrices, series and sequences, conic sections, and many more can be resolved through Mathway on PC and mobile.
Calculus
Ugh, Calculus! One of the most challenging and weirdest math problems you will find in this part. Luckily, apps like Mathway are there to save the day. Now you can take out derivation and integration of any equation. The limit integration part is also available, which will provide a quick answer –Beneficial for students in their exams.
The most crucial part is that with a paid subscription, you will be able to view the step by step procedure of your calculus equations, making it easier to prepare for your test and exams.
Statistics
Statistics is one of the coolest parts of Math. It's fun and easy. With the help of Mathway now, you can carry out quick stat equations and solutions. Whether it's taking out the probability, doing permutations or combinations, or only taking out the mean, median, and mode –Mathway is there for you.
Finite Math
Finite math is somewhat a mixture of everything we described above. It is a quick and easy way to learn basic and discrete math. The combinations of formulas given are easier to find and solve.
Linear Algebra
Mathway allows you to solve simple linear algebraic problems. Taking log and antilog, union and intersection sets, taking exponential equations, using Iota, and taking out the probability.
Chemistry
Having issues with math in your chemistry formulas? Don't worry; Mathway will be there to assist you.
Graphing
Live graphs are newly inducted into Mathway to help you find all the right coordinates; learn about X-axis and Y-axis, and a quick answer to your graph-related queries.
Also, Check: How To Download Termux App On PC – Windows 10/8/7 & Mac
Good and Bad Impressions of The Mathway App On PC and Laptop
Let's count all good and bad impressions of the Mathway application:
Good Impressions
Write problems, hit enter, and get the answer.
Scan images through camera and gallery for equations.
The premium plan gives you a step by step procedure to solve equations.
Customized worksheet for practice specifically for students.
Easy to find the drop-down menu.
Extensive glossary.
Neat and precise graphs and other geometry figures
Available both on website and PC/Mobile applications.
Bad Impressions
Expensive and non-affordable for needy students.
Step to step function requires a premium subscription.
Students tend to rely on Mathway and often cheat too.
Trigonometry angles are not adequately solved if a camera is used to scan.
The Mathway application is full of ads.
How To Use Mathway On PC and Windows 11/10/8/7?
You can access Mathway in two ways on your PC and Windows. One way is through the official website, and the other is by getting it on your PC via Emulator.
Through Its Website:
It is very simple. All you need is to open your favorite web browser like Chrome, Edge, Firefox, or Opera.
Type mathway.com to open its official website.
You can enter your query math problems from there.
Through Application:

Download the Android Emulator – BlueStacks. You will get the installer in a few seconds.
After finishing up the BlueStacks download, open the emulator installer.
Accept the terms to continue the installation of the BlueStacks setup.
When you completed the emulator, double click the icon of the BlueStacks from your desktop.
Once you are inside the main screen of BlueStacks, access the Play Store and then set up your Gmail account to log in.
Go to its search button and click it, now type Mathway app.
The one with a red logo and Mathway developer will be the Mathway.
Download the Mathway and when you completed it, you can now solve all your simple and complex math issues with it.
Note: You can get Mathway on your Mac, too, by following the same steps. The only difference is you have to choose the installer for the Mac.
Popular Questions
Is Mathway on PC free?
The free Mathway app provides you with solutions to all your questions, but if you want step-by-step details, then the fee is $9.99 monthly or $39.99 annually.
Who invented Mathway on PC?
Jake Keuhner was the brain behind the great Mathway application. His efforts made this application to have almost over 10M monthly users.
Is Mathway good for calculus?
Yes, Mathway gives precise Calculus and Precalculus solutions. Pay the subscription and know how it was done.
Final Lines
Mathway is undoubted one of the best mathematical applications on the internet. Get it right away to solve the problems quickly and save yourself from math anxiety.
You Might Also Like: How To Download And Install Omlet Arcade On Windows PC & Mac?