Tinder for PC is a popular dating app. It is one of the best-known dating apps till now with over 26 Million matches each day.
It has a simple interface that makes it convenient to be used by anyone. This app allows you to discover new people and built relationships.
You can like people according to your match based on physical attraction and interests. It has over 30 Billion matches (and still counting) which makes it the most popular dating app among singles.
Due to its popularity, lots of people around the world are wondering if there is a way to download Tinder app on a PC, and the answer is yes, you can run it on computers or laptops.
Also, Read: How To Download Whatsapp Business On Your PC?
Best Features of the Tinder App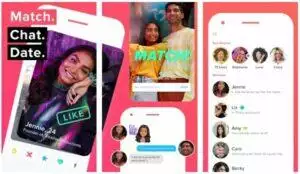 Tinder has three plans; Free, Plus, and Gold. The features of the app vary with the plans. Following are the features that are available in all the subscriptions of the app.
Quick Prompts
Prompt is the newest update to the Tinder app. it is a quick starter line that can start a conversation between two people. You can also add answers to your own prompt to make it more conversational and interesting.
You can add more than one prompt to your profile. It will appear with your profile pics so as the person swipes your photos, he can see the prompts with them.
In order to click prompts to your profile,
Click on the profile icon on the top right corner of the screen.
Now click 'Add Media'. After that click on 'Text Prompt' and add it.
Loops
Tinder lets you add loops to your profile to make it more lively and fun. These are short videos of a few seconds that play on loop. Like prompts, they will also appear mixed with your profile photos.
You can add multiple loops to your profile like a sassy hair flip or posing with your pet and a welcoming smile (nothing can beat a cute smile). You can add loops from the same option of 'add Media'.
Super Likes
Super-like is not like a regular-like. When you super like a profile by tapping a blue star, it instantly sends a notification to the person that you are super liked by someone.
This eventually increases the chances to be liked back and starting a convo. In the free plan, you can super like one person per day.
Be careful while using this feature, as someone can take it a little bold, and must be forward-looking to it.
Boost
This feature is only available for paid plans. It costs about £3.89 per boost (that is pretty costly) but you can have a discount by buying them in bundles.
These features boost your profile and make it stand on top of the other profiles for 30 minutes for every user. So, it increases the chances of getting more likes and matches during these 30 minutes.
Video Chat
The face-to-face video chat option was added in 2020. This feature is not like video calls present in all social media apps. But it does come with safety precautions.
Both the persons have to enable the option of video chat to proceed. If one person enables it, others won't know until he enables the option as well. In this way, you can start a video chat whenever you are ready for it.
Not only that, it is mandatory for both persons to enable a camera during the video chat. Also, you can disable this option if you do not want to video chat anymore.
Furthermore, there is a behavior guideline that should be agreed upon before the call, and in case you don't like anything, you can flag it at the end of the call.
Tinder Plus
If you are seriously looking for a date then you can try the Plus plan as it comes with additional features.
In the plus plan, you can avail up to five super likes each day and one free boost a month.
A rewind button, allows you to undo your last action in case you like or unlike someone's profile by mistake.
You can change your location.
There are no ads in the plus plan.
It increases your limit of 'Right Swipe' that is not available to the users of the free version.
The price of this plan varies with the age of the user. If you are young, then it is way cheaper. The cost may range from £1.49 to £14.99.
Tinder Gold
In Tinder Gold, you can avail all the features of the Plus plan along with two more options, "top picks and likes you".
The 'likes you' option lets you see the people who have liked your profile and proceed accordingly.
In the 'top picks', tinder chooses some specific profiles that match your interests. These picks disappear within 24 hours.
In the gold plan, you have more control over your profile and restrict your profile from others as well.
It costs up to £3.49 to £ 4.49 each month in addition to the cost of the plus plan.
How to Download Tinder for PC (Windows 11/10/8/7 & Mac)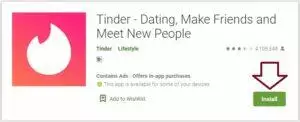 In order to install Tinder for PC, you need to download an android emulator. You can install a Bluestacks emulator or Nox Player as both of them are trustworthy and compatible with a wide range of applications.
Method 1: Download Tinder for PC Using Bluestacks
Step 1: Download Bluestacks Emulator and then follow the given instructions to launch it on your computer.
Step 2: Once the installation is complete, open the Google Play store and log in to your Google account using your Gmail credentials.
Step 3: Now search for the Tinder app.
Step 4: Now click on the Install button.
Step 5: Once it is downloaded, you can open it from the home screen of the BlueStacks emulator.
Method 2: Download Tinder for PC Using Nox Player
Step 1: Get the Nox Player emulator and save the installer to your computer. Then install it.
Step 2: After the installation, launch the Nox Player.
Step 3: Find the Google Play Store and log in to your account on it.
Step 4: Find the Tinder app and then click the install button.
Step 5: Run the newly downloaded Tinder app for PC using the Nox Player.
Conclusion
Tinder is one of the most popular dating apps in the last few years. This app allows you to meet and chat with people all across the world. It has a user-friendly interface that makes it easy and fun to use.
There are almost 26 million matches per day which are a great hope for single people if they are struggling to find their match. The Tinder for PC is possible with the use of an android emulator.
You Might Also Like: Download Guide Of LYKA App On Windows PC & Mac