When you want to add additional security at home, the first thing that you need to install is a security camera. In order to control it efficiently, you will need software for the YI Home app. With this app installed on your computer or phone, you will be able to view the camera in real-time, whenever you are. All you need to do is a simple tap or click on your device to view it. The YI Home Camera is a cross-platform application; you can either get YI Home for PC or for mobile to see your IP camera on your desired platform.
In this article, we are going to explain the features of this IP camera monitoring software and discuss why you would want it.
About YI Home App For PC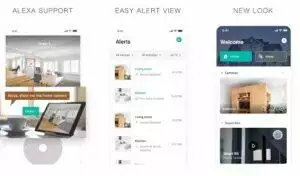 The YI Home Camera app was made by YI Technologies, Inc., which is a company that also provides dashcam, surveillance camera that is suitable for home and office, and even cloud service for storage.
Its mission is to offer the world a better way to increase security using a high-quality device that also allows interactive communication.
Features of This App
When you have its camera installed, you can get wonderful benefits. Let us take a look at them.
Real-Time Viewer
With this feature, you can see what is happening instantly around the vicinity of its camera. This also allows you to check if the camera you are viewing is working correctly. To make it happen, all you need to do is to connect the camera to the internet.
Wide Camera Lens
Most of the camera hardware or its competitor does not support a wide viewing angle. However, the YI Home camera app has a 111-degree lens. With this feature, the viewing capability of your camera dramatically increases, and you can cover a lot of areas as well. Not only that, even though it covers a lot of areas, you also don't have to worry about the resolution because it can record HD videos.
High Accuracy Motion And Audio Detector
The YI Home camera app has a brilliant AI that allows it to detect motion. Whenever it detects it, you can get notified immediately, and the great thing is, it can recognize if a human is present on the camera.
In audio, it can also recognize sounds such as the crying of a baby, or unusual sound within its area. When it detects it, this will be recorded on the alerts viewer.
External Storage Support
It is compatible with 32 GB micro SD cards, which can be used for storing video along with the audio of special moments. Not only that, but the built-in mode can also trigger store action whenever an image change is detected for storage optimization.
Camera Organizer
If you have multiple cameras installed, you can name each of them so that you can easily tag and see which one you are looking for.
Alexa Support
The YI Home camera app supports the Alexa voice command, so if your hands are already full, you can command it and perform a task by using your voice. In this way, you can save time, as well as perform other tasks such as reading or writing while giving a command to the YI Home app.
Pros
You are not forced to pay for a subscription to use its service since the camera is an SD card compatible.
The image and video quality are high definitions.
It has a detector that can recognize different sounds around its area.
The interface is user-friendly.
Cons
There's a bug that makes the camera lose its settings.
The cloud storage price is a bit pricey.
Also, Check: How To Download Eseecloud On PC – Windows/Mac
How to Download YI Home for PC (Windows 11/10/8/7 & Mac)
In order to install the YI Home app for PC, you can use third-party software that enables you to run Android apps on a PC. This software is called an emulator.
The most common emulators are BlueStacks and Nox Player. Both of these are the perfect choices for running the YI Home for PC.
To install it, check the process below so that you can install it properly and successfully.
Method 1: Using Bluestacks to Download YI Home app for PC

Download the latest version of the BlueStacks or Nox from their official website. Use your preferred search engine to look for the installer by typing either "Download BlueStacks" or "Download Nox Player." Otherwise, you can also visit the link provided in this article. Please note that you only need one emulator to run the YI Home app on the PC.
Double click the installer to start the installer wizard and then follow the indicated instruction on its screen.
Once you completed the installation, open the Play Store and then log in to your Gmail credentials. In this way, you will be able to see thousands or even millions of apps, including the YI Home Camera app.
After that, search for the said app from the Play Store and then click the "Download" button to get it.
In this way, you can install the YI Home app on your Windows PC with an emulator. If you are in trouble of accessing the Play Store or it is blocked on the network, you can use an APK file to install it.
Method 2: Installing YI Home Camera App for PC (Windows & Mac)
Some of you might think about installing it without an emulator. And yes, you can install the YI Home Camera on a PC even without BlueStacks or Nox Player.
To install this software, you must go to their website. Once you visited their website, find the installer for the Operating System you are using – Windows/Mac and then click it. This will start the download into your computer.
Open the downloaded file to start the installer of the YI Home app on your PC.
Once you completed the installation, it will have a shortcut icon on your desktop. Otherwise, you can also open this app from the Start menu, and by searching for its name in case, you cannot find its shortcut.
In this way, you completed the installation and successfully run the YI Home Camera app on your computer.
Final Words
Having a reliable IP camera app installed on your home or office provides you with multiple benefits. This enhances your security, and strong confidence, and gives you ease of mind by having around it your house. What more if you can control and view your camera whenever you want with the YI Home on PC or mobile.
You Might Also Like: Download And Install Guide Of Mi Home App On PC