Today I have decided to introduce an application packed with adventure, fun-filled quests, and all the glamour. Yes, it is the dreamy Barbie Dreamhouse Adventures for PC. Trust me; I have rarely seen a girl who didn't love a Barbie.
The Barbie world is magical. They produce beautiful Barbie dolls, mesmerizing movies, and epic games for all –a great time pass for our youngsters.
The Barbie Dreamhouse Adventures is an application available on Android and iOS; where can you be a part of its wonderful world.
Here in the Barbie Dreamhouse, you can make many BFFs, go on adventures with your friends and pets, dress for the event, and engage in fun activities like baking, playing badminton, singing, hide n seek, and many more.
The Barbie Dreamhouse Adventures want you to experience the fullest and become the ultimate little diva you are.
Record And Stream Your Gameplay With Omlet Arcade App – Windows & Mac Download.
About Barbie Dreamhouse Adventures
Barbie Dreamhouse Adventures has many levels. It also comes with special events based on real-life events like Halloween, Christmas, etc.
Here are some magical features of the Barbie Dreamhouse Adventures app: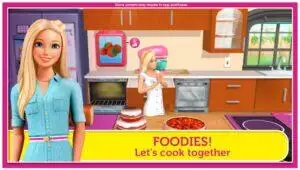 Design The Dreamhouse
What's a dream house without customized detailing? The Barbie Dreamhouse Adventures game wants you to explore your artistic side and lets you design your dream home just the way you want it to be.
Change your wallpapers, add some cute furniture, make your rooms livelier with subtle decorations, and show off your dream house to your friends.
Make Cool Friends
Moving into the Barbie Dreamhouse neighborhood has its privileges. You got to make new friends that will be there to play and have fun with you.
You got DJ Teresa, the love-interest Ken, the fashionista Nikki and, of course, your sisters Chelsea, Stacie, and Skipper.
Dress It Up
You got to look the most stunning at your Barbie Dreamhouse parties. Slay your looks with your new dresses and makeup. Wear the best Barbie accessories and become the talk of the night.
Photo-Tastic
Show everyone how you look at different occasions. The Barbie photo booths are made to enhance your Barbie features so that you look like a magazine cover. Make solo shoots or invite your friends to click amazing pictures.
You can save your looks in the local storage too.
Pool Fun
Ken is a party animal. His summer slumber party in the Barbie Dreamhouse Adventures is the best. Don't miss the opportunity and dress your Barbie self in the best summer outfit to kill that beachy look. Don't forget to put on your shades, though.
Chef Barbie
The Barbie Dreamhouse has a dreamy kitchen as well. Go there and make delicious recipes for yourself and your friends. Your pet will be there to keep you company –bake your favorite cookies and cakes for your housewarming party.
Barbie Rhapsody
If the Queen band can do it, why can't you? The Barbie Dreamhouse Adventures has a band of its own –a rock one. So what are you waiting for? Take your puppy, gather your bandmates, and rock the stage. Your puppy will accompany you while singing.
Dance Spree
Every Barbie knows how to dance. Don't be afraid of showing your best dancing skills in the Barbie Dreamhouse dance challenges. Slay the dance floor with your pals.
Also, Check This Game: Beach Buggy Racing – How To Download On Windows PC
Pros:
The graphics are attractive.
Fun and easy challenges.
The app runs smoothly.
New updates and avatars.
Works well without the internet.
Suitable game for young ones.
Cons:
The game gets boring in the long run.
Lack of characters.
VIP subscription seems unnecessary.
Ads during play.
Expensive items to buy.
What Are The Subscription Details Of the Barbie Dreamhouse Adventures?
The Barbie Dreamhouse Adventures app comes with a subscription, and it has other in-app purchases for unique items.
VIP Subscription Details
The Barbie Dreamhouse Adventures might offer you a limited-time subscription for free. You need to put your account details to get a Barbie Dreamhouse subscription. The Barbie app will charge you every month automatically after your trial period will expire.
If you haven't turned off Barbie Dreamhouse Adventures auto-renewal, then the app will continuously charge you. You can finish your subscription, too, if you want.
How To Download Barbie Dreamhouse Adventures for PC (Windows 11/10/8/7 & Mac)
The magical Barbie world is a dream of most of our kids. However, some like to play adventures on big screens like laptops and PCs.
Therefore, there are two ways to play the Barbie Dreamhouse Adventures on your Windows PC or Mac.
The first one is through playing by the website directly.
The second option is by installing an android emulator and then installing the Barbie Dreamhouse Adventures on it in order to play on a PC.
Method #1: Play Barbie Dreamhouse Adventures for PC Using Web Browser
Method #2: Download Barbie Dreamhouse Adventures for PC Using MEmu Play
In case you want to play the Barbie Dreamhouse Adventures on your PC without using the web browser, follow these simple steps to download it through the MEmu emulator.

Open a new tab on your web browser.
Search memuplay.com
The MEmu emulator will be present there. Tap on the download button to start saving the installer to your computer.
After downloading MEmu, double-click on its icon and proceed to installation.
Once your MEmu play emulator is downloaded, log in to your Google account.
Now access the Google Play Store by entering your Gmail account on it.
Go and search the "Barbie Dreamhouse Adventures" from the Google Play Store. If you are confused, the developer will be Budge Studios.
Hit the install and wait for it. Once you completed the installation, welcome to the Barbie World.
You will see the app on your MEmu emulator's main page.
Simply tap or click its icon to start using the Barbie Dreamhouse Adventures on your PC.
Method #3: Get Barbie Dreamhouse Adventures on PC Using LD Player
Download Barbie Dreamhouse Adventures from the LD Player website.
Open the LD Player emulator and install it.
Once you installed it, open the LD Player.
Run the Google Play Store and then log in to your account on it.
After that, you can now search for the Barbie Dreamhouse Adventures.
Click the install button and this will download it to the LD Player.
Now, you can play the Barbie Dreamhouse Adventures for PC using the LD Player emulator.
What Are People Asking?
How Old Is Barbie In Dreamhouse Adventures?
The Barbie in your Dream House is 43 years old.
Who Is Barbie's Boyfriend?
Ken is her only boyfriend of Barbie's.
How To Play Barbie Dreamhouse Adventures On PC?
You can play the enchanting Barbie Dreamhouse Adventures on your Windows or Mac with the help of a MEmu or other similar android emulator. Another method is by playing this game directly on your web browser which is also indicated above.
Final Lines
It's time to go Pink; It's time to go to Barbie. Don't wait for a second and install the Barbie adventures right away to spend some fantastic time with your girlfriends.
You Might Also Like: How To Download The AIMP App On Windows – Step By Step Guide