When we were kids, we attended schools, followed by evening coaching classes. I acknowledge that school teaches you well, but coaching academies bring the best student out of you.
The routine of schools, coaching classes, and other institutes was severely affected due to the pandemic. There was a need for something extra that could fulfill our children's educational needs.
Thus, I stumbled upon a similar educational application that will answer all your questions –the name is BYJU'S.
What is BYJU'S App?
BYJU'S is a multi-purpose problem solving academic application that assists you in your daily life school subjects and ensures that you are on the right track.
The motto of BYJU'S is to enhance the learning and understanding capacity of a student. This brilliant application makes you clear all your concepts during the study and is an excellent tool for preparing for exams.
How Does BYJU'S Help Students?
BYJU'S helps in your studies in both ways –through graphical-friendly and engaging videos and personalized learning.
The BYJU'S online tutor program is one of the best learning tools on the internet. It features BYJU'S online classes, real-time doubt resolving, and by mentoring live to the students.
BYJU'S is an Indian application, and it contains the best teachers from the country. You will find experts on every subject available 24/7 to assist you. The BYJU'S special lectures are visualized to maintain the interest of younger students.
The BYJU'S app tracks the student to judge their learning style, adaptation to newer concepts, punctuality, strong and weak spots, and other essential things which will allow the online teachers to evaluate what type of test and assignment must be given.
What Topics Does BYJU'S Cover?
BYJU'S deals with various subjects –they specialize in Math, Chemistry, Physics, and Biology.
This app visualizes a specific concept by creating an animated video out of it. It doesn't mean that you can't find other subjects on BYJU'S. You will find the content of other subjects too, from class one to higher secondary level.
It doesn't end here. BYJU'S also specializes in training students of India for some of the most prestigious Indian exams like NEET, IAS, IIT-JEE. If we talk about international exams, then BYJU'S take the lead here too by assisting in learning for GRE and GMAT.
India is a multicultural and multilingual country, so the BYJU'S team decided to give all lectures in the most common Indian cultural languages. It's available for international English-speaking students too.
Also, Read: How To Download And Install Grasshopper App On Windows PC
Promising Features of BYJU'S App
BYJU'S popularity has increased tremendously. Almost 40 million users have subscribed to its service. Let's discuss some fantastic BYJU'S features with you: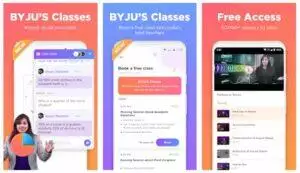 Discover
Discover and learn important notes from renowned teachers from India. The comprehensive tutoring and personalized learning techniques are too good to miss.
Practice
Clear your concepts through BYJU'S and move towards a problem-solving approach by practicing all your questions –to understand it all.
Revise
The BYJU'S doesn't only emphasize on learning. It persuades you to practice. Revise your syllabus and take multiple tests on BYJU'S with their appreciable testing system and practice their compelling practice sheets.
Each BYJU'S chapter has three modes to approach for better understanding –the Warming Up, Sprinting, and Racing mode.
Analyze
The BYJU'S analyze each student on a personal level. It will record all the strengths and weak areas of your learning techniques and subjects and develop an approach that could help you prepare in the best way.
Prepare
Practice till you perfect it. BYJU'S will cover your entire essential syllabus with lots of practice techniques and prepare you for the final examinations. The success stories of BYJU'S students are everywhere.
BYJU'S Learning App – The Good and Bad
The Good:
Free demo learning for up to 15 days.
Highly qualified teachers and trainers.
Comprehensive study material.
Scholarships for students.
Instant doubt resolution.
Live mentoring.
Seamless online classes.
The Bad:
Video stops playing while audio runs.
You cannot re-visit a video again sometimes.
Bugs that prevent turning captions on.
The video doesn't playback from where it's left.
It is prohibited to take a screenshot or record the screen.
Methods To Download BYJU'S On PC, Windows 11/10/8/7, And Mac
There are many ways BYJU'S can be accessed on your devices, such as PC and Mac. You can also use BYJU'S on Android phones and iPhones by downloading the respective app from their app stores.
If you want to download the BYJU'S app on PC and Mac, you can either do it by browsing their official website or using a fast Android emulator.
Let's discuss how to download and install the BYJU'S on PC and Windows using emulators. We will also discuss here the method on how to access it on their official website.
Accessing From Website
Open your browser
Go to byjus.com. You will redirect to the BYJU'S website.
Sign up on BYJU'S by entering your details.
You can take a free BYJU'S 15 days demo also.
Enjoy and learn with BYJU'S on your PC.
Using Emulator To Download BYJU'S On PC
We will tell you how we can use BYJU'S with the LD Player emulator, which has a flashy-fast speed when it runs games and other apps. The LD Player emulator is all about multi-tasking and having complete authority over your app controls.
Follow the instructions carefully:

Look for the website of the LD Player by going to Google search or any of your favorite search engine.
Download the LD Player and then run the installer; simply follow the procedure on your screen to install it.
Wait for it to finish the installation.
Launch the LD Player emulator on your desktop. If you can't find its shortcut, use the search from your start menu to find it.
Once you run the LD Player, open the Play Store.
Enter your Google ID/password to connect the LD player to your email.
Open the Play Store as you do it on your mobile phones.
Now type BYJU'S and search for the app.
Download BYJU'S on the emulator and enjoy endless lectures.
You can also download BYJU'S on Mac using the same technique.
What Are The Students Asking?
Is BYJU'S free?
BYJU'S offer all its premium services for free for 15 days, and then it charges an amount for a premium subscription.
Is BYJU'S safe for kids?
Yes, BYJU'S follows strict moral policies to safeguard your child.
Is BYJU'S Good For Class 6?
Yes, it is suitable for sixth grade.
Can I access the BYJU's on PC without an emulator?
Yes, we also discuss it above. If you want to skip an emulator, you can
Summary
BYJU'S is a perfect app for learning through infographics. Download and subscribe to them to start learning and prepare well for your exams.
You Might Also Like: How To Download VITA App On PC – Windows & Mac