What happens when a country bans content on the web? How does a person access that banned content? Or how can someone browse the web so that hackers cannot ever trace their location or data?
There are lots of questions and the only solution for this: Try a VPN.
A VPN service has become a web surfer's best friend. They can access banned websites, stream international content, and, most importantly, hide their identity from others.
A similar VPN service known as the Hola VPN is one of the most popular VPNs these days. Almost 200M people are currently using Hola VPN as their primary virtual private network.
This article will wholly review the Hola VPN and its great features.
What Is Hola VPN?
The Hola VPN is a free VPN service that lets its users access the internet securely. It's a peer-to-peer VPN and assists in surfing the internet without any barriers.
Hola VPN has been providing excellent services since 2007. The best thing about this service is its diversity, price flexibility, and availability.
A user can use the free Hola VPN to access the restricted sites for a limited time or switch to Hola Premium for more reliability.
Hola VPN is readily available on Windows, macOS, and browsers such as Chrome, Firefox, and opera as extensions.
Hola VPN Plans – My Personal Review
Before going into Hola VPN's details, let's explore the different plans provided by this VPN service.
Hola VPN Free
The Hola VPN free version is one of the best free VPN services not just because it is free but due to its fast access.
The Hola VPN free version is limited. The person using it has to reconnect to the VPN to start using it again. Moreover, the free Hola VPN also only connects with one device at a time.
The Hola VPN has an average SD video quality during streaming in its free version. The users also get FAQ support in the free version.
On the negative side, the Hola VPN free version doesn't include any encryption or security that makes the user vulnerable to security threats. In addition to that, there is no Smart DNS integration inside. The numbers of global servers connected to the Hola VPN free are also limited to just 500.
Hola VPN Premium
The Hola VPN Premium package is the most popular among them all. The reason behind this is that Hola VPN Premium allows more than one device to be connected with the same account. One can connect up to ten devices to Premium Hola VPN.
Moreover, the Hola VPN Premium version lets the users enjoy their video streaming in high-definition quality. There is no limit of time or usage when the user has Hola Premium running.
The sites load even faster, and the user gets encrypted security. Additionally, the worldwide servers for Hola VPN Premium exceed 1000, which indicates that more online restricted content will be available to the subscribers.
Just like Hola VPN free, the premium version also does not support Smart DNS integration.
The pricing of Hola VPN Premium starts from $2.99 a month.
Hola VPN Ultra Version
The third and final Hola VPN version is the best of them all. The Ultra Hola VPN mode is the fastest VPN service one can experience.
The Hola VPN Ultra mode lets its users surf the banned content safely without interrupting for a moment. In addition to that, it provides a whopping 20 device sharing connectivity. Now, people can share their Hola VPN Ultra with friends and family and even share the expense.
The best thing about Hola VPN Ultra is that it provides 4K video playback quality during video streaming. It's highly secure and encrypted, so the Ultra mode user doesn't need to worry about their identity exposure.
The Hola VPN Ultra also bags the most number of worldwide servers, which is about 1500. And surprisingly, it also provides Smart DNS connectivity for more efficient browsing.
The Hola VPN Ultra plan costs about $7.99 monthly to its subscribers.
Hola VPN Features Review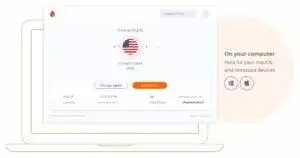 Let us quickly give you insights into our Hola VPN latest review for its premium features.
Video Streaming
The Hola VPN Premium allows its users to access the locally and internationally available content from the best online streaming services like Netflix, YouTube, Amazon Prime, etc.
The Hola Premium users get to enjoy HD video streaming, but if they want more, then the Ultra version comes with 4K.
High Security
The Hola VPN has no security in its free version. However, if the user demands total secrecy during web surfing, the best option would be switching to Hola Premium or Ultra.
The Hola VPN Premium will provide 256-encryption along with the IKEv2/IPSEC security. The Ultra version will be even more secure.
Quick Servers
The Hola VPN services are excellent when it comes to connecting to its servers. It just takes a matter of seconds to load those restricted pages using the VPN. It's mainly due to a large number of servers.
The free Hola VPN version contains 500, while the Premium and Ultra have 1000 and 1500 servers, respectively. More servers mean more speed.
Customer Support
The Hola VPN Premium and Ultra version will provide efficient customer support through Emails, while the free users can only avail of FAQs.
Connected Devices
Hola VPN's most intriguing feature is that its premium version allows ten persons to connect the VPN service at the same time, even on different devices. The Ultra version provides even more than 10, making both these versions perfect for family and friends.
Conclusion
The Hola VPN service is extensive, blazing-fast, and secure. One can unblock any restricted content on the web through Hola. The best thing about Hola VPN is its availability on a number of Operating Systems and browsers.
Although some Hola VPN features could be improved but overall, it's excellent for daily use. Also, beginners can use it easily as it doesn't contain any complicated process. Moreover, it's safe to use, which means you don't have to worry about your privacy.
You Might Also Like: FastestVPN App On PC – How To Download And Install Guide