Are you getting tired of accessing some of your favorite websites but end up being blocked? This can be frustrating, but did you know that you can easily fix or bypass it by connecting to a powerful VPN application? One of the best VPN providers that give both privacy and the ability to bypass the geo-restriction is the FastestVPN which can be used for PC, mobile, and many devices.
By connecting to its network, it allows you to view and watch a TV show or movie that is not available in your region. In some cases, an application or a game is also not available in your country; thus, with the FastestVPN app, you'll be able to run and play it.
Unlocking the websites, games, or content is not the only thing that you can get from the FastestVPN; it also enhances your protection, especially privacy, by masking your real IP address online.
Moreover, there are also numerous benefits that you can get from a VPN application, and we will discuss them here.
Also, Read: How To Download And Connect Browsec VPN From Your PC
What Are The Features Of The FastestVPN App?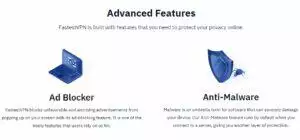 Although that many VPN application offers both privacy and unlocking the content, the FastestVPN provides more features, and these are the following:
Anti-Malware And Ad Blocker Included
When you are connected to the FastestVPN, it can block those annoying advertisements when browsing the internet. Moreover, it can also protect you from downloading and accessing infected websites that can harm your computer.
Compatible With Multiple Devices
You don't have to worry if your device is compatible with this application since it is completely compatible with Xbox, PS4, Kodi, Linux, Roku, and many more.
Up To Ten Concurrent Connections
The FastestVPN app allows you to log in to your account into 10 different devices and connect them all at the same time. This is very useful if you are planning on sharing your account with your families or friends.
DNS Leak Protection
This is one of the most important protection of FastestVPN. Without this, the VPN will expose your real IP address, which can breach the security.
Strong Encryption
The level of the security of this VPN application can be compared to military and banks since they use an AES 256-bit encryption on their network to ensure the protection of its users.
Kill Switch
If the VPN connection is lost, you don't have to worry about exposing your identity because with the Kill Switch feature; you can ensure that your computer can't connect to the internet in case you are not connected to the VPN.
Different Protocols
The FastestVPN app has many protocols that it can use. These are OpenVPN, OpenConnect, L2TP, IPSec, IKEv2, and many more. All of them are reliable and provides great security.
Easy Connect
Since the FastestVPN has a lot of servers around the world, you can click the Connect button, and this will instantly select the nearest and fastest server to choose.
No Bandwidth Limitation
You don't have to worry about downloading something big when connected to its network. That's because it will not terminate your connection since they do not limit the connection.
Reliable Servers
The servers of the FastestVPN are always guaranteed to run 99.99% of the time.
No Limitation When Switching Servers
If you want to change the current server that you are using, feel free to do so anytime.
Easy Customer Support
Whenever you need some help, don't hesitate to contact their team. Their support team is always online 24/7, so you can get a reply in a minute whenever you ask them.
Easy Installation
The installation procedure of the FastestVPN app for PC, Mac, Linux, and mobile devices is easy. There is no need for technical knowledge.
How To Download FastestVPN And Connect Your PC?
https://youtu.be/66YJ8o2oxPc
The FastestVPN does not need any special instruction to download. But if you want some help, you can follow this guide to install the FastestVPN on your personal computer:
Installing The FastestVPN For Windows 11/10/8/7
Go to the website of the FastestVPN and then choose a subscription.
Once you selected a subscription, select the payment option that you can use.
After the successful payment, you will get an email with a download link of the FastestVPN for your PC.
All you need to do is to follow the installation wizard that shows on your screen to install it.
Your computer will have a desktop shortcut once you finished the installation; double click its icon to start it.
Login to your account that you use when registering from the FastestVPN website.
Hit the connect button and wait a few seconds.
When the status becomes connected, then your computer is already using the FastestVPN.
Installing The FastestVPN On Windows PC Via Chrome Webstore

If you regularly use Google Chrome for internet surfing, and just wanted to use the VPN on it, then you can also use the FastestVPN app on your PC – Chrome version.
It provides a similar level of security but with limited options. If you want to use this lightweight and fast installation method, all you need to do is to open the Chrome Webstore and then search for the FastestVPN.
Click the "Add to Chrome" button and then click the "Add Extension" on the popup screen. In this way, you can have the FastestVPN on your desktop downloaded from the Chrome Webstore.
Summing Up
There's no doubt that the FastestVPN is, by far, one of the best VPN providers. With its tons of features, users will surely enjoy their services. If you are looking for a cheap and reliable solution to unblock and protect your privacy, this VPN application is highly recommended.
You Might Also Like: How To Download iTop VPN On PC – Windows/Mac.