Drawing and painting is an activity that people of all age groups love to do. It's more than a hobby for people. Gone are those days when people traveled miles to obtain paint pigments and made history with their paintings.
With the adverse effects of digitization, the artist community has evolved too. Thus, digital painting and sketches came into being. And let me tell, these digital paintings are no less than the ones we draw on the canvas.
Introducing the artists to the Krita application is even older than most of our younger artists these days.
What Is Krita?
Krita is an open-source application designed by the KDE, specifically to draw, paint, and animate, since 2004.
Also, Read: Downloading Medibang App On PC – Installation Guide On Windows/Mac
Main Features Of Krita – Both PC And Mobile Version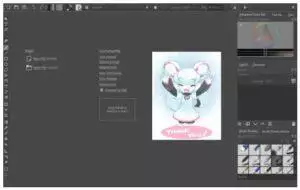 Here are some striking features of Krita:
Artistic Interface
Krita provides a full-fledged artistic interface for its users. One can find a comfortable workspace, sheets, brushes, and other tools in the main interface.
Professional Stabilizers
Krita assists those with shaky hands by using excellent brush stabilizers.
Customized Brushes
Krita allows the users to use the brushes as they want. The level of stroke and color mixing palette is available for use.
Patterns and Designs
Krita has dedicated modes to create seamless and beautiful patterns & designs.
Easy Share
Krita lets its users share their artwork with others and also import and export each other's resources.
Pros
Variety of drawing tools.
Simple to use.
Easy to understand.
Cons
Heavy application.
App crashes on some devices.
How To Get Krita On Windows 11/10/8/7 PC And Other Devices?
https://youtu.be/HdRIxWsuZJU
As I said earlier, Krita is open-source software, and the user will find multiple options to download the Krita app.
Downloading Krita App On Android Devices
The Krita is in development for Android-based devices (Android Tablets), but the full version would be available within no time. There are a few requirements as Krita is a drawing app and such games consume space and RAM. The minimum requirements to download Krita Beta on Android are:
Android 6.0 or higher.
2 GB RAM or higher.
Once the Krita full version is released, it will be an excellent tool for Android devices and artists. To download Krita, follow these steps:
Navigate the Google Play Store.
Go to the search icon and click.
Enter the name "Krita" by developers Stichting Krita Foundation.
Hit the install button from its page.
Krita will be downloaded on your device.
Downloading Krita On iOS
The Krita iOS version is still in development and will be available soon for iPhone and iPad users. Till then, the users are free to use the desktop and Mac version of Krita.
Downloading Krita App On PC [MacOS Version]
The Krita drawing application is also available for Mac users. The downloading procedure for Krita is quite simple. Krita works on Mac OSX. Therefore, the previous Mac versions do not support Krita.
To download Krita on Mac, follow these guidelines:
Go to the Mac App Store.
Go to search.
Type and find Krita in the App Store.
Get the Krita app on Mac by clicking install.
The desktop version of Krita on Mac will be available to use for you once you completed the installation.
Download Krita On PC Windows 11/10/8/7 From The Windows Store
Windows has launched the full application of Krita on its Windows Store. Although there is a bit of disagreement and bad reviews from the people as the Windows Store version of Krita is charging an amount to acquire the app, despite Krita being open-source.
Still, the Windows Store version works pretty smoothly on Windows 10 supported devices. The minimum requirements to download Krita on Microsoft Store are:
Windows 10 (v17135.0) or higher.
x64 Supported Windows
At least 2 GB RAM.
The Surface Pro Series (recommended)
The developers recommend using the Krita Windows Store version with a touch-based screen and stylus support. To download Krita on the Windows Store, follow this procedure:

Go to the Start Icon, and locate the Windows Store.
Or, click the Microsoft Store icon on the taskbar.
Access the Microsoft Store and move towards the search icon.
Enter the name "Krita" from the search bar.
Buy the software from the Windows Store platform and then install it on the computer/laptop.
The Krita application version is ready to be used.
How To Download Krita For PC (Windows 11/10/8/7 Desktop Version)
The most popular and commonly used Krita is its PC desktop version. The Windows desktop Krita version is free of cost, and the users can get access by simply downloading it from the Krita webpage.
Although there are many desktop versions for Krita, the latest Krita update has released new minimum requirements for downloading the app. These are:
Windows 8.1 or higher.
Minimum 4 GB RAM.
Open GL 3.0 or higher GPU.
The download size of Krita's latest version is 127 MB. The Krita app also slows down the system like any other drawing photoshop tool, ensuring that the PC meets or extends the requirements mentioned above.
To download the Krita desktop version on PC, follow the procedure:
Go to the browser.
Type and enter the URL krita.org.
The Krita main website will display on the screen.
Click on the "Download Krita Now" button present in front.
Another webpage of Krita downloads will be opened.
Select the Windows version and click it.
The Krita desktop version will begin to download.
Enjoy Krita on Windows.
For those users who are using Windows 7 or less, there is a list of Krita earlier downloads right below the latest downloads in the downloads sections. Choose one that fits the PC and download it to use Krita.
FAQ
Is Krita as good as Photoshop?
Both applications are good on their own. Adobe Photoshop is best used for photo editing, while Krita is used for digital drawing and paintings.
What does Krita mean?
Krita comes from the Swedish word Krita, which means Crayon. Krita in Sanskrit means Perfection.
Who owns Krita?
Krita is owned by KDE, which is an international organization that provides free, open-source software.
Conclusion
Krita is an excellent software for new aspiring artists who do not have the means to buy a drawing app. It's fun, easy to use, and most importantly, it's free and diverse.
You Might Also Like: How To Download And Install ProCreate App On Windows PC?