The tinyCam Monitor app is one of the best software when it comes to managing and monitoring your IP camera at home or office. It has all the tools that you needed for a monitoring system app. The IP camera is not the only device it can connect but the video encoders and DVRs as well. Connecting your camera devices to this application can be quickly done since it supports LAN scanning that will automatically detect the camera within the network. Since it is one of the most popular apps for monitoring CCTV, it is no wonder that some people would want to download and use the tinyCam Monitor for PC.
If you are one of them, continue reading to find out the steps on how to do it. But before we tell you about that, learn more about the details of this app.
Features Of The tinyCam Monitor For PC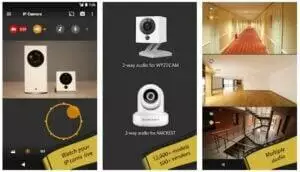 Compatible With Many IP Camera
Compare to other IP camera controller software, the tinyCam Monitor supports products such as Foscam, Amcrest, Dahua, Hikvision, FDT, Huisun, Sricam Reolink, ONVIF, Wyze Cam, CamHi, and many more.
Supports Different Codecs
If you have a Foscam or Amcrest camera, it can support the H.264 codec. The MP4/H264/H265 is also supported on different cams such as Hikvision, Reolink, Dahua, FDT, and many more.
Has A P2P Support
You can use the P2P technology on some camera models with 17 – 20 characters UID.
PTZ Compatible
If your camera allows moving physically, you can use the Pan, Tilt, and Zoom options to move and change the direction of view of the camera.
Secure Connectivity
It supports the SSL or secure socket layer, which is a requirement for HTTPS to enable the secured and encrypted connection between your device and the tinyCam Monitor app.
Two Way Audio Supported
If you have a camera that has a mic and speakers on it, you can use the two-way audio feature to listen and talk directly to your camera.
Add An Unlimited Amount Of Camera
Do you have a 5, 10, or even 50 IP camera installed in your home or office? You don't have to worry about it. You can manage all of them, using only this application.
Supports 24/7 Video Recording
When you purchased the Pro version, it gives you the option to save the video files on your cloud storage directly on Google Drive, Microsoft OneDrive, or DropBox. It also has tinyCam Cloud features that let you rent cloud storage from their servers.
Smart AI
The tinyCam Monitor app can automatically detect the face of the person captured on your camera. It can also detect motion, and when it detects it, this app will notify you instantly.
Why Choose The tinyCam Monitor App?
With its popularity, it is becoming one of the trendiest applications for monitoring a camera remotely. Lots of people tried and tested this app and appreciate its features, leaving it a high rate and stars on the Google Play Store.
This causes the number of installs to reach ten million plus downloads from the Play Store. It has both free and paid version, and the good thing about the free one is, that most of the function that you needed is available on it.
Pros And Cons Of tinyCam Monitor
Even if you consider all of the features that we mentioned above, there are also many pros along with some of their cons.
Pros
It allows you to connect to your IP camera easily with minimal effort.
The interface of the tinyCam Monitor app is simple and easy to understand.
The tinyCam app can efficiently use the CPU and GPU to ensure that it won't slow down your smartphone or computer.
It has a lot of features, even for the free version of this app.
Cons
The free version has too many ads.
Unlocking its full feature requires you to purchase this software.
Also, Read: How To Download Google Classroom On PC? 
How To Install tinyCam Monitor for PC (Windows 11/10/8/7 & Mac)?
If you have already done your research, you will find out that the tinyCam Monitor for Windows & Mac does not exist as of now. The only software that you'll find is the one for the Android Operating System.
However, this does not mean that you cannot download and install the tinyCam Monitor app on your PC. There's a way to install it but not directly, and you'll need another program to achieve this.
This program is an emulator software. With the emulator program, you'll be able to run almost any kind of Android exclusive app on your computer.
Before we get an emulator into your computer, you'll have to consider seeing the minimum system requirements.
Make sure that your computer has at least a dual-core processor or better. If you still use an old computer, just make sure that it can run at at least 1.5 GHz of speed.
The RAM is also a significant part of your computer. Ensure that you have a 4 GB memory or better to maximize the compatibility of the emulator.
You also need to consider checking your hard drive space. Be sure to have a 10 GB of free space so you won't run out of breathable space on your computer.
Get the latest DirectX and OpenGL into your computer by installing or updating your latest graphics card driver.
To ensure that you won't get a random error, you also need to get the .Net framework and C++ Redistributable from its website of Microsoft. Since it is from Microsoft, you are not required to install the following software if you use a macOS.
Lastly, consider enabling the Virtualization Technology to enhance the emulator performance. Although it is optional, allowing it from your BIOS will surely increase the speed of the tinyCam Monitor app emulation.
Download tinyCam Monitor for PC (Windows & Mac)
The android emulator program is available online and can be downloaded for free. The best emulator that we can recommend is the BlueStacks emulator.
Upon testing it, this emulator can perfectly emulate the tinyCam Monitor app on the Windows computer without any issue. To install it, follow the method below.

Read the information on how to get the BlueStacks by checking our guide here.
Once you have the installer, start the installation by executing the setup file of BlueStacks on your PC.
Accept the terms and conditions to comply with their requirements and then click the button for the installation.
The BlueStacks will now begin installing it on your computer which usually lasts for 10 to 20 minutes. Also, ensure that you are connected to stable internet.
After you completed the installation, check the shortcut of BlueStacks on your desktop and open it. If you cannot find this app, click the search on your desktop and type the BlueStacks.
When you open the BlueStacks emulator for the first time, it will require you to enter the details of your account on Play Store, so do it to start setting up your account.
Now, open the Play Store and start searching for the "tinyCam Monitor" and click the download button.
After the installation, your desktop will have the shortcut icon of this app, double click it to start using the tinyCam Monitor on your PC.
Now, start registering your camera to start monitoring it from your PC.
FAQs
I want the executable installer of tinyCam Monitor on my Windows computer, not an emulator!
Unfortunately, the available app of the tinyCam can be found only on Android devices. Thus, there's no other way to run it without using an android emulator. However, if the developers have released software dedicated to Windows & Mac, we will update this guide.
Can I really trust the appzforpc website?
We, from appzforpc, only created a guide for everyone to run this software using popular emulators like BlueStacks or Nox Player. These emulators are very safe, and you can trust them. We do not recommend other emulators because some were bundled with unwanted programs.
If you still have any doubts, you can try scanning the installer of BlueStacks or Nox on the virustotal website or just give up running the tinyCam Monitor on a computer.
Conclusion
The tinyCam Monitor app is a wonderful software that has every option needed for monitoring an IP camera or accessing your DVR/NVR online. With its powerful features, some wanted to use it on their computer, and thus, you can use an emulator to run the tinyCam Monitor for PC (Windows & Mac), like the way you use it on smartphones or tablets.
You Might Also Like: Download Soundcore App For PC – Windows 11, 10, 8, 7, Mac