Yoosee for PC is an application for viewing an IP camera. With this app, you don't have to check the NVR or DVR physically or manually. It grants you direct access to your IP camera even without touching it physically. The good news is, that this software is free and can be downloaded easily, especially on the Google Play Store, Apple AppStore, and the Windows Operating System. The installation of the Yoosee for PC has several methods, and we will cover the following in this guide.
But before we do that, continue reading on to know more details about the Yoosee app. Otherwise, go to the section about how to install the Yoosee app on Windows PC or macOS.
Also, Read: Installation Guide Of Guarding Vision App On Windows/Mac
Yoosee App For PC
This IP camera app uses an advanced Cloudlink P2P for its network transmission technology, which allows its user to connect directly to its camera. All you need is an active and stable internet connection in order to establish a remote connection.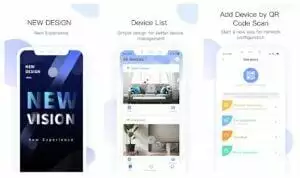 The Yoosee app was made by the Gwell company and has been downloaded for a million times from both Play Store and App Store. It has a good reputation, and most of its users leave either 3 to 5 stars because of its wonderful features.
Features of Yoosee App
Night Mode Capable
Even in minimal light and darkness, the Yoosee app is compatible and will work with it. The video quality can stay high-quality even in this scenario.
Motion Detecting System
It has a smart AI algorithm that is capable of detecting motion within its view. Whenever it detects it, the Yoosee app will notify you about it along with the screenshot of the video.
Sound Detector
Movement is not the only one it can detect, but also the sound around it. Not only that, but it also notifies you whenever this event happens.
Two Way Radio
If you connect a CCTV with a built-in mic and speaker hardware, then you can establish communication between you and the people around your camera by allowing you to talk and listen to it.
Recorded Video Playback
It has a built-in playback for recorded videos. This can save you a lot of time because you can play the files and review the previous feeds directly from the Yoosee app.
Multiple Camera Viewing
If you have a lot of IP cameras installed at home or office, this is not a problem for the Yoosee app. Because you can set it all to view multiple cameras at the same time, in this case, you don't need a separate application for viewing all of your installed cameras.
Advantages
Having this application installed on your device provides you with a lot of advantages. When you installed it on your computer, tablet, or smartphone, you can see what is happening in real time.
For example, if you are away at home, and you wanted to check what is happening around it, you can instantly see it by connecting your camera using the Yoosee app.
This is also good for monitoring your toddler or child when you are located in the other room. Or use it to view your workplace to see the activity of your employees. The Yoosee app is perfect for monitoring an IP camera to make you feel safer.
How to Download Yosee For PC (Windows 11/10/8/7 or Mac)
Installation of the Yoosee app on your PC has two methods. One is to use an Android emulator or to use the installer for Windows. Both ways will be discussed here; you can choose one in which you feel more comfortable.
For the installation of the emulator, follow the steps in the paragraph. Otherwise, go to the installation for Windows.
Download Yoosee on PC Using BlueStacks
Get a copy of the Android emulator, specifically the BlueStacks from its official website.
Once you've successfully browsed and accessed their official site, find the right installer for your computer's Operating System – Windows 7, 8, 10, or macOS.
Save it and then double-click the installer to start launching it.
Choose to agree to its terms and conditions in order to continue the installation of the BlueStacks emulator.
During the installation, you have to wait for around 10 – 30 minutes, depending on the speed of your computer/laptop and the internet.
After you finished the installation of BlueStacks, the next is to set up an account on the Google Play Store.
Open the Play Store once you are finished setting up the account.
Next is to search for the Yoosee app from the search bar of the Play Store, which is located at the top.
When you find this application, click the download in order to start the installation of the Yoosee on your PC.
After the successful installation of it, you can browse your desktop to see the Yoosee and open it.
Finally, start connecting your camera and controlling it on your computer.
How to Install Yoosee App For Windows PC?
This is easier to do than using the BlueStacks emulator in case you are using a Windows computer. All you need to do is to access their website. You can see their Play Store page and then look for the website section to find it. After that, download the installer of Yoosee that has a Windows logo button from their official website.
Then after that, click its download button, and your web browser will start the download on your computer.
Click the installer once you completed it to run the setup and then open it on your PC. Now you can fill up the details of your camera information and account to start integrating it with the Yoosee for PC.
Frequently Asked Questions
Why would you include the Android emulator in this guide if there's a Windows version?
In some cases, the Windows version might not work with your computer. Thus, your other solution is to use an alternative way to download the Yoosee app, which is to use an Android emulator. Not only that, but the Windows installer of the Yoosee app does not update frequently. That means that Android and iOS are more supported and have more bug fixes along with enhancement.
If I use an emulator, can I get a virus?
No, especially if you use the BlueStacks. Because this emulator is perfectly clean and safe, it has a good reputation, and many people trust it. They even have a Wikipedia page about it in case you need more details about this emulator.
Can I use another emulator for running the Yoosee on my PC?
Yes, we recommend using the Nox App Player in case you have problems with BlueStacks. The installation of this emulator is also easy and does not need a complicated setup.
My emulator is slow and does not respond very well.
The usual problem is the specs of your computer. The only disadvantage of using it is you need to have a good processor along with the RAM and plenty of storage. You might also need to turn on the virtualization from the BIOS to increase the performance.
Final Thoughts
Viewing your IP camera from the Yoosee on a PC, Mac, or smartphone only needs minimal effort. Once you have completed the setup of this IP camera app, all you need to do is to have an internet connection, and you'll be able to access your camera and view it even when you are lying in your bed or doing something.