Philips Hue for PC is an app that you can use for controlling the lights installed on your home as long as it is compatible with it. This app was made by Philips Corporation, which is a popular hardware distributor. It is available to download at Google Play Store, Apple App Store, and directly from their website. Installing this app will allow you to access your light and change the color of it. As of now, it has already reached one million-plus download from the Play Store alone. This makes it a top-rated app from the Play Store for controlling the lights. If you want to install the Philips Hue on PC, read our tutorial here.
In case you want to find out more information about this app, read the next paragraph. You can also skip to the installation part if you're going to install it right away.
Features Of The Philips Hue For PC
There are many exciting features of the Philips Hue app if you are curious to know it, see the list below.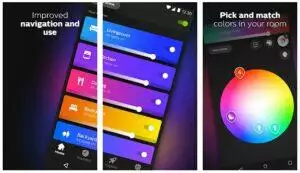 Organize Your Lights
With this app installed, you will be able to organize each of the lights installed in your rooms easily. You can remove it from this app and change the brightness, color, to match your activity or mood.
16 Million Plus Of Colors
No matter what your color preference, with its tons of color options, you can apply anything you want. Selecting a color is also easy to do because it has a palette that allows you to pick and click on your desired color.
One Tap Transformation
There's also an option that lets you apply a scene so that you can transform your room. The Philips Hue has over 30 scenes that are ready to pick anytime you want.
Picture To Light Algorithm
With this feature, you will be able to transform your favorite picture and apply it to the scenery. The intelligent algorithm can extract the colors that were relevant to it and then apply it to the lights to make an effect.
Lighting Routines
Your lights can automate the way you want. For example, you can activate a specific color or scene based on time. You can also randomize the view whenever you want.
Location Awareness
In this feature, the lights can be set to turn on itself whenever you arrive at your home automatically. It will also turn off itself automatically when you go outside or leave your home.
Sleep Routines
In this mode, you can make your lights to help you sleep at night by dimming the lights in the evening. This can also help you to wake up energized by gently waking you up in the morning using its lights.
Voice Controller
When your hands are full or too busy to handle your device, you don't have to worry about it. Simply tell a command, and the voice assistant AI will help you to adjust the brightness, turn on the lights, and so on.
More Smart Device Controller: Download Ring App For PC – Windows/Mac
Advantages and Disadvantages of Philips Hue App
Advantages Of Philips Hue
The lights are compatible with the regular fittings; thus, you don't need to make an adjustment.
They have great technical support when you need some help.
The Philips Hue app is easy to use.
You can connect your device easily from this app.
This application can be download for free.
Disadvantages Of Philips Hue
The light itself is more expensive than its competitors.
The Google Assistant sometimes cannot connect with it.
How to Download Philips Hue for PC (Windows 11/10/8/7 & Mac)
There are multiple ways to install the Philips Hue for PC. The first one that we will introduce is using the direct installer for Windows or Mac, which you can get directly from its website.
So far, this is the easiest way to install the Philips Hue on your computer. However, if your computer encounters some problem with it, you might consider installing the alternative version.
The installation process involves using the android emulator. In order to install the smartphone version on your computer, you'll have to make sure that you have the following.
It needs a fast processor that has two or more cores.
You need the right amount of RAM installed on your computer.
Ensure that you have installed the .Net framework and Visual C++ Redistributable if you are using a Windows OS.
Install the OpenGL and DirectX, which is also bundled with the graphics card driver so that you can use the Philips Hue on your PC without any glitches.
Get at least 10 – 15 GB or more free space to ensure that you can save the installer and install the emulator and Philips Hue later on.
When you have the following, you are now ready to install an emulator.
Also, Check: Nest App For PC – How To Install On Windows 11, 10, 8, 7, Mac
Using Bluestacks
If you have no issues when using the dedicated Windows/Mac version of the Philips Hue app on your PC, then you can skip this part completely.
However, if you want to use an emulator, we recommend using the BlueStacks because it is stable and faster than its other competitor.
To download and install the BlueStacks, follow the written guide below.

Browse the website of the BlueStacks emulator and then go to its download section.
Click the download and save the installer to your computer.
Double-click the installer icon and start it.
Follow what it requires you before you can install it.
Before clicking the "Install," ensure that you are connected to stable internet.
When you completed the installation, go to your desktop and check for the BlueStacks icon and open it.
The Play Store login window will now appear, use a valid Gmail address to continue.
After that, you can now search for the Philips Hue app from the Play Store.
Install it once you found it on the Play Store and wait for the installation to complete.
Now, go back to your desktop, and you'll find the shortcut of the newly installed Philips Hue app on your PC.
Frequently Asked Questions
How do I find the installer of the Philips Hue app for Windows PC/Mac?
The installer can be accessed from their website. All you need to do is to click the download button for the Operating System you are using. Otherwise, you can also use the Android version of this app and run it from the emulator; thus, you can use the mobile version into your PC, which has the same function.
Is it safe to use the Philips Hue app on my PC?
Yes, this application was made by a very reputable company around the world. Both the Windows, Mac, and mobile versions are safe. As for the BlueStacks emulator, this software is safe as well and also has an outstanding reputation.
The Philips Hue app is not connecting with my lights, help!
The first one that you need to check is whether your lights are connected to a power source. Make sure that your switch has an "On" position. If you still cannot join it, you might need to contact their support service.
Can I sync all my hue lights at the same time?
Yes, you can. With its Hue Sync feature, you can make your lights change its color all at the same time whenever you play a game, music, or watching a movie.
Final Thoughts
When you have a smart bulb installed in your house, the Philips Hue app is certainly a great way to control it. With its many features, you can change the mood of your light, depending on what you need. The installation of the Philips Hue for PC is also easy and does not need any specialized knowledge.
You Might Also Like: IFTTT App For Windows & Mac – Free Download